The College of Liberal Arts is the academic core of the University of Mississippi as well as the largest academic unit on our campus, providing students with a strong foundation in the humanities, the social sciences, the visual and performing arts, the natural sciences, and mathematics—the central disciplines that inspire innovation.
Our faculty is a community of dedicated researchers, scholars, performers, and teachers. Their work expands the boundaries of our knowledge and creativity, and their teaching inspires lifelong learning while also preparing students for a variety of careers. The CLA faculty include individuals involved in Nobel Prize-winning research, Grammy and Emmy awardees, a Mississippi Poet Laureate, and many recognized by their peers as leaders in their field. We also have exceptional staff who strongly support the College mission.
College graduate students pursue new knowledge in their disciplines. Many of our graduate programs are recognized nationally, with seven ranked as top 100 programs among public institutions according to the 2019 edition of the US News and World Report Best Graduate Schools. Our undergraduates are primed for graduate study or entry into their first professional position, having been well prepared through inspiring classroom teaching, cross-disciplinary programs, internships, and research experiences.
Our alumni, engaged in original and transformative achievements in their personal and professional lives, serve as examples of an outstanding liberal arts education—proof positive of its tremendous value in today's society.
Whether this is the first or the 20th time you are reading The View from Ventress, I hope you are inspired by all the activity and opportunity in the College.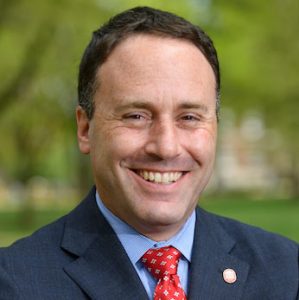 Lee M. Cohen, PhD
Dean of the College of Liberal Arts
Professor of Psychology