Sociology
What does it mean to major in sociology?
Sociologists examine the dynamics of social interaction and investigate the origins of social problems.  Sociology majors learn basic tools of sociological analysis including social research methods (both quantitative and qualitative) and theory.  The curriculum equips students to more effectively negotiate the diverse society in which we live by addressing social inequalities, culture, community development, social institutions, and social change.
Employers are looking for students who have developed the multi-disciplinary and critical thinking skills necessary to better understand our globally connected and diverse world. Students who major in sociology will leave with training in research design and methodology, and communication skills that are useful in a wide range of careers.
The fact sheet provides a summary of the major, information about the program, and our alumni.  The degree sheet gives the specific requirements and a sample 4-year curriculum plan.
Minor in sociology?
Many educational and career paths would benefit from the addition of a sociology minor, providing both content knowledge and the social science skills needed to negotiate our complex society.
A minor in sociology consists of 6 sociology courses, providing maximum flexibility in pursuing the areas of sociology that interest you the most.
Why is UM a good place to study sociology?

The sociologists have areas of specialization that include race and ethnicity, gender and sexuality, inequalities and stratification, community development, medicine and health, place and environment, population, culture, social psychology, science, politics and social change, family, religion, crime, deviance, work, and economy and organizations.
The Center for Population Studies and the Grisham-McLean Institute for Public Service and Community Development, as well as coursework in the major support service learning, study abroad, research assistantships, field schools, and internships focused on health, economic development, and social justice.  Students are currently working with the citizens in many communities in the state (and abroad) on social change projects.
The Center for Population Studies disseminates U.S. Census data, provides technical assistance in the collection and analysis of Census and other demographic and social data and undertakes research on population issues such as fertility, migration, and economic development.
The Grisham-McLean Institute for Public Service and Community Engagement is a resource for the entire University of Mississippi campus community, and collaborates with students, faculty and staff around volunteerism, service-learning, community-based research, and community development and social entrepreneurship projects.  The McLean Institute then works to leverage these university resources to partner with communities across the state to solve problems relating to poverty.
Faculty Profile
Dr. Anne Cafer is an Associate Professor of Sociology and Director of the Center for Population Studies. She is also Co-Director of the UM Community First Research Center for Wellbeing and Creative Achievement (CREW). She earned her PhD in Rural Sociology at the University of Missouri and an MA in Anthropology at the University of Nebraska, Lincoln. Dr. Cafer's area's of expertise include community resilience, health and food systems, rural sociology and mixed methods.
"My research examines how social change occurs around food procurement, agricultural systems, environmental sustainability, and health/nutrition at the community level, both domestically and internationally. These problems are complex in nature and require adaptive, context specific solutions, earning them the title 'wicked' problems. To examine these problems and work toward sustainable solutions to these problems I consistently work across disciplinary boundaries—engaging plant scientists, geographers, veterinary medicine specialists, economists, and public health professionals.
"I also have a (growing) interest in scholarship of teaching. I believe my research should inform my teaching, and I consistently work to bring research experiences and findings into the classroom. I also believe students learn best in an active learning environment guided by inquire-based teaching. My goal is to help students develop a toolkit which includes critical thinking, logical reasoning, and a sociological imagination, regardless of background. I also teach courses which include a service learning component as a way of helping students develop empathy and practical research skills related to scientific inquiry."
What can sociology majors do after graduation?
A liberal arts education empowers and prepares students to deal with complexity and change through a broad knowledge of the world.  They gain key skills in communication, problem-solving, and working with a diverse group of people.  Related careers in sociology include health care, law, demography, drug counseling, criminology, human resources, consumer advocacy, corrections, city planning, community relations, labor relations, child welfare, business, education, counseling, marketing, and gerontology research.
The undergraduate sociology alumni are working in many sectors of the economy, with the top six sectors shown in the infographic above. The largest percentages are working in business and finance firms, community services and non-profit organizations, and government.
Alumna Profile
Emma Willoughby (BA sociology, liberal studies '13)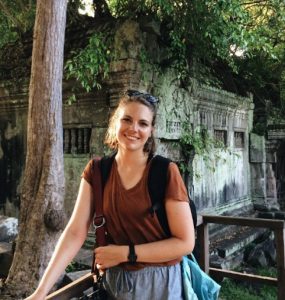 "Entering university I was interested in medical school. But my science courses lacked world context. I began to ask questions like, "Why do people get sick in the first place?" The book Mountains Beyond Mountains got me thinking more about public health systems, policy, and politics. I thought sociology might help me better understand how economics, gender, race, geography, and political systems affect health outcomes and health inequalities."
Emma was a member of several honor societies including Phi Kappa Phi, a photographer for theatre productions, an opinion writer for the Daily Mississippian newspaper, tutor with the Writing Center, psychology teaching assistant, researcher with the Center for Population Studies, and founding member of the Food Bank on campus. She participated in a bioethics fellowship at the UM Medical Center to better understand the health care system. She then conducted ethnographic research examining health networks at a community health center in Clarksdale for her honors thesis.
After graduation Emma attended the London School of Economics for a masters in international health policy, then worked with former UM Chancellor Dr. Dan Jones in the Center for Obesity Research at the UM Medical Center. Her research on the overlap of nutrition policy, trade policy, development, gender and race fuels her current interest in rising obesity trends. After traveling in Asia, she is pursuing a PhD in political science and health policy with special interest in political economy, qualitative methods, and food security in Vietnam at the University of Michigan.
Why study sociology at UM? "The department fosters interdisciplinary research that is necessary to answer complex social questions. Also, Mississippi offers a wonderful context for thinking about social problems. It can feel like you're on the forefront of fresh change. Mississippi has lessons to share and stories to tell that can really make an impact in development and social change."
For more information
Dr. Jeffrey T. Jackson, Chair and Professor of Sociology
Department of Sociology and Anthropology
509 Lamar Hall
The University of Mississippi
University, MS 38677
(662) 915-7421  |  jacksonj@olemiss.edu