Political Science
What does it mean to major in political science?
Political scientists analyze political institutions, political processes, and political behavior at the local, state, national, and international levels. They study political actors and organizations within the context of government and politics both in the US and beyond, international relations, as well as policy analysis.
Students can choose from optional emphases in campaigns and elections; law and courts; international conflict & cooperation, and politics of developing countries.
Political science majors gain a broad understanding of the political world in which we live as well as skills in analysis, judgment, problem solving, social science methodology, writing, argumentation, and persuasion.  Their strong communication skills and analytical reasoning are two skills that position them for jobs across almost the entire spectrum of employment.  Their political knowledge and efficacy makes for effective citizenship in our democracy.
The fact sheet provides a summary of the major, information about the program, and our alumni.  The degree sheet gives the specific requirements and a sample 4-year curriculum plan.
Minor in political science?
Many fields of study are enhanced with social science training and deeper knowledge of the political sphere. An enhanced understanding of our democratic system is a benefit for the rest of your life and improves our democratic discourse. A minor in political science consists of 6 political science courses, including Pol 101. At least 3 courses must be at the 300 level or above.
Why is UM a good place to study political science?
The faculty have exceptional strengths in political behavior, international conflict, and experimental research.  Students engage in faculty research, and have opportunities to learn in the field.  We place interns in Jackson during the legislative process, in Washington D.C., New York City, and Atlanta. While earning credit towards the major, students in internships get direct experience in the political setting of their choice.  We also have travel courses with UM faculty such as The Politics of Money in Washington D.C.  These valuable experiences reinforce and apply lessons from the classroom, and sometimes lead directly to the first job after graduation.
The Haley Barbour Center for the Study of American Politics provides opportunities for students to prepare for engagement in the American electoral process, from engaged citizens and political party activists to paid campaign advisors and electoral process managers.
Beyond the political science student organization, majors can take part in multiple related student organizations, including Model UN, Mock Trail, Ethics Bowl, Ty R. Warren Debate Union, and campus-wide student government. For example, the Mock Trial Team provides an opportunity for undergraduates to learn about the U.S. judicial system and the work of trial attorneys. The team travels to regional and national competitions allowing students to hone their oral communications and legal skills.
The department's Accelerated Master's program allows students with excellent academic records qualify for admission to a five year B.A./M.A. degree program. This program requires that students apply in the spring of their junior year. Admitted students then take a few graduate-level courses in the senior year working toward both undergraduate and graduate degrees in an expedited, five year program.
Political Science majors are eligible for a new Accelerated Law (3+3) program with the UM School of Law.  If accepted, students begin the first year of law school after the junior year, and use the first year law courses to fulfill general elective hours for the undergraduate degree.  Therefore, in six years instead of seven years students would receive their undergraduate and JD degrees.
Faculty Profile
Dr. Conor Dowling, Professor of Political Science, earned his PhD from Binghamton University (SUNY). His research specialization is in American politics, particularly campaigns and elections, election law, political behavior, public opinion, and political psychology. His recent co-authored book, Unhealthy Politics, draws on public opinion surveys, physician surveys, case studies, and political science models to explain how political incentives, polarization, and the misuse of professional authority have undermined efforts to tackle the medical evidence problem and curb wasteful spending in the United States. The book offers vital insights not only into health policy but also into the limits of science, expertise, and professionalism as political foundations for pragmatic problem solving in American democracy.
Why study political science at UM? "A degree in political science helps develop critical thinking, writing, and oral communication skills essential to many careers in both the public and private sector, as well as effective citizenship. Students should expect an engaging classroom environment where they can chart their own path within the political science major, and also take advantage of the various internship and other outside-the-classroom opportunities the program has to offer."
What can political science majors do after graduation?
A liberal arts education empowers and prepares students to deal with complexity and change through a broad knowledge of the world.  They gain key skills in communication, problem-solving, and working with a diverse group of people.  Related careers in political science include policy research, government, business, survey analysis, marketing research, lobbying, law, military, education, and public relations.
Our undergraduate political science alumni work in most sectors of the economy, with the top six economic sectors of their employers shown in this infographic. The largest percentages include business and finance firms, law, government, military, and first responders.
Alumna Profile
Sailer Perkins (BA Arabic, political science, with minors in environmental studies and intelligence and security studies '17)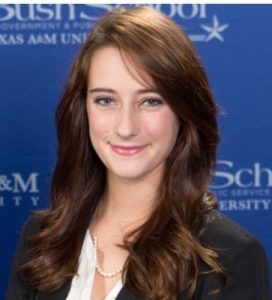 "I was never very interested in political science until I had an AP American Government teacher who was incredibly engaging and inspiring. He piqued my interest and encouraged me to pursue political science as a way to better understand our political system and how people and nations relate to one another."
An avid traveler, Sailer studied abroad for two summers in Amman, Jordan, and studied for a fall semester at the University of Edinburgh, Scotland, where she learned about sustainable development and political theories of global justice and citizenship. Sailer's education was enriched through an internship with Syria Direct, a NGO providing news and assisting journalists reporting about the war in Syria, a research internship with the Hudson Institute's Center for Political and Military Analysis, and a fellowship with the non-profit Mississippi Sustainable Agricultural Network. Her undergraduate honors thesis research focused on the impacts of water scarcity on intrastate conflict and U.S. national security.
After graduation Sailer spent the summer in Cairo and Amman to further her Arabic skills. She is currently earning her master's in international affairs with national security and diplomacy track in the George Bush School at Texas A&M, and interned at the National Defense University's Eisenhower School. Sailer hopes to bring together her national security and humanitarian interests in a role working for the federal government in international affairs. She was a Civil Affairs Specialist with the US Army Reserve and is now an Information Officer with the USAID.
Why study political science at UM? "UM has such a wonderful legacy of valuing the liberal arts. Political science remains critical especially for those who want to pursue public service and tackle the most complicated social and political problems of our day. The department is a comfortable size, and a student can be as engaged as they want owing to the amazingly knowledgeable and professional faculty. They are great mentors, particularly in utilizing the unique history and political situation of Oxford and Mississippi to teach lessons for the future."
For more information
Dr. John Bruce, Chair and Associate Professor of Political Science
Department of Political Science
133 Deupree Hall
The University of Mississippi
University, MS 38677
(662) 915-7401 | polsci@olemiss.edu