History
What does it mean to major in history?
Historians strive to understand the relationship between people, events, cultures, places, and time.
History majors must take a range of courses across American, European history, and history of other regions.  They take at least one advanced research course where they utilize primary resources to address questions of historical importance. All history majors complete a seminar that introduces them to the research and writing techniques that are central to the historian's craft. Enrollment is limited to about a dozen, and all students write a research paper using primary sources.      
History majors develop a systematic understanding of social structures and institutions, strong analytical skills, a capacity for problem solving and thinking creatively, exceptional oral and written communication skills, and an ability to meet deadlines in a fast paced environment.
The fact sheet provides a summary of the major, information about the program, and our alumni.  The degree sheet gives the specific requirements and a sample 4-year curriculum plan.
Minor in History?
A minor in history consists of six history courses, of which at least three must be at the 300-level or higher. This provides great flexibility to study the areas of history that interest you the most! The minor is a great combination with any major, providing the skills that benefit students going into any career field.
Why is UM a good place to major in history?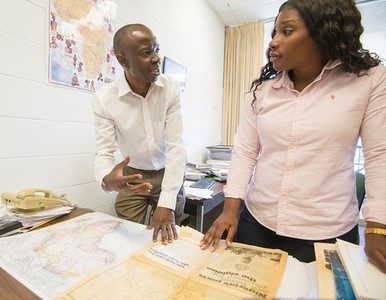 Our faculty have been trained at world-class institutions in the US and Europe. We have particular research and teaching strengths in the areas of American (with a special strength in Southern), European, African, East Asian, Middle Eastern, and Latin American history.  Professors offer courses that focus on, among others, cultural, ethnic, religious, social, political, economic, intellectual, and gender history.  Our department is dedicated to fostering connections across disciplines on campus. Approximately a third of our faculty is a joint appointment in African-American Studies, Southern Studies or the Croft Institute for International Studies.
The Arch Dalrymple III Department of History is deeply involved in the activities of the African American Studies program, the Center for the Study of Southern Culture, the Croft Institute for International Studies, the McDonnell Barksdale Honors College, and the Sarah Isom Center for Women's Studies.   
Faculty Profile
Dr. Shennette Garrett-Scott, Associate Professor of History and African American Studies, earned her Ph.D. from the University of Texas.  She is a historian of gender, race, and capitalism who focuses on black women in the financial industry.
Dr. Garrett-Scott's current book project, supported by a fellowship at Princeton University, is titled "Let Us Have a Bank": The St. Luke Bank and Race and Gender in U.S. Finance, 1860s-1930s.  After the failure of the Freedman's Bank in 1874, African Americans opened and controlled more than 100 banks before the Great Depression.  Her book reveals African American financial innovation through the story of the St. Luke Bank in Richmond, Virginia, which opened in 1903. For more than three decades, Maggie Lena Walker, the first woman of any race to organize and lead a bank, served as its president.  Dr. Garrett-Scott places race, gender, and class formation at the center of 20th century U.S. finance. The first history of the U.S. financial industry that focuses on black women, she reveals the ways their savings, spending, and lending practices challenge understandings of success and security, notions of risk, and the possibilities of citizenship in the U.S. economy and society.
Why study history at UM? "Too often, most people learn history as 'just one thing after another,' leaving you wondering: 'What does the past have to do with today?' This makes students of today not very different from people in the past. You are far more eager to imagine where you are going than to reflect on where you have been. It is precisely during moments of change in our present that the past speaks most clearly to us. I and my colleagues try to understand how people in the past struggled with similar issues to gain perspective on the opportunities and challenges that confront us today."
What can history majors do after graduation?
A liberal arts education empowers and prepares students to deal with complexity and change through a broad knowledge of the world.  They gain key skills in communication, problem-solving, and working with a diverse group of people.  Related careers for history include business, law, government, marketing, education, historical preservation, archives management, legislative research, documentary filmmaking, museum programming, foreign service, national park interpretation, international business, military, and library services.
Our undergraduate history alumni are working in many sectors of the economy, with the top six sectors shown in the infographic above. The largest percentages are business and finance firms, law, and government.
Alumnus
Robert Corbin (BA history, sociology '13)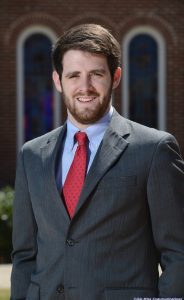 "My interest in history can be dated to my sophomore year at Ole Miss.  I was very inspired and very impressed by the faculty passion and professionalism in a few history courses.  I wanted to emulate those things in my own life."
Robert's honors thesis about Sicilian agriculture and the political economy of Italian unification set the course of his future specialization.  After graduation he earned a MA in modern European history at Syracuse University.  With support from the Maxwell School of Citizenship and Public Affairs, Robert researched Mussolini's agricultural programs in archives around the Po Valley of Italy.  He is currently in the Ph.D. program at Columbia University where he will continue his research on the political economy of the Axis Alliance. Robert's goal is to teach collegiate history in Mississippi or the South. "When I have my degree in hand, it will be time to come home."
Why study history at UM? "I cannot say it enough, the faculty are the best reason to come to UM to study history. They are a very diverse and a very talented group of people; they are a source of immense support for me. I credit the interest that they took in me as an undergraduate for many of the things that I have been able to accomplish thus far in my career.  I think the seminars and research as an undergraduate at UM helped prepared me for success as a graduate student at Syracuse and Columbia.  Interestingly, the first history of Italy that I read in a UM seminar with Dr. Chiarella Esposito was written by my advisor here at Columbia. I always thought that was a really organic connection and a true testament to the kind of start that you can receive from Ole Miss."
For more information
Dr. Noell Wilson, Chair and Croft Associate Professor of History
Arch Dalrymple III Department of History
310 Bishop Hall
The University of Mississippi
University, MS 38677
(662) 915-7148 | nrwilson@olemiss.edu