Economics
What does it mean to major in economics?
Economics is the study of the allocation of resources. Using mathematical and statistical models, economists consider how resources such as labor, land, money, and technology are distributed.  Economics majors gain a broad understanding of the field of economics as well as skills in statistics, mathematics, organization, research methodology, and verbal and written communication. 
There are two ways to earn a degree in economics at UM. The Bachelor of Arts in Economics has a social science perspective on the questions of economics, and the Bachelor of Science in Economics is designed for students desiring a more technical and mathematical approach to economics. There are two optional emphases are financial economics and law & economics.
The fact sheet provides a summary of the major, information about the program, and our alumni.  The degree sheet for the BA degree and the degree sheet for the BS degree give the specific requirements and a sample 4-year curriculum plan.
Economics Minor?
The minor in economics is designed to complement majors such as political science, public policy leadership, mathematics, and history. A minor in economics consists of 6 courses, including macroeconomics, microeconomics, intermediate macroeconomics, intermediate microeconomics, and two more economics at the 200-level or higher.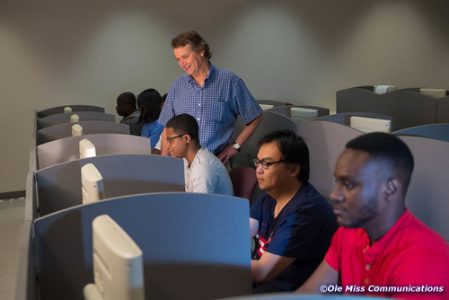 Why is UM a good place to study economics? 
The economics faculty have areas of specialization that include applied microeconomics, monetary theory, game theory, health economics, public finance, economic history, managerial finance, labor economics, and econometrics.
The Mississippi Experimental Research Laboratory (MERLab), is a research facility used by faculty and students to conduct a wide variety of economics research, including research in experimental economics, econometrics, and microeconomics. For example, recent undergraduates have used the MERLab for experiments on topics such as school choice, risk analysis, and game theory.  It is also used as part of Econ 324 Experimental Economics.
Faculty Profile
Dr. Thomas A. Garrett, Professor of Economics, earned his PhD from West Virginia University. He was an economist in the Research Division at the Federal Reserve Bank of St. Louis for 10 years. Dr Garrett's primary areas of interest are state and local public finance, state lotteries, public choice, and applied microeconomics. He has published over 30 articles in scholarly economics journals, and has written numerous policy briefs on various subjects including casino gaming, state lotteries, income inequality, personal bankruptcy, social security reform, and state budgeting. One current research project is on the variability of casino revenue in response to alternative sources of income, optimal tax rates on casino gaming, immigration and wages
Why study economics here at UM? "Students can select from a wide-range of economic electives that allow them to focus on areas of their own interest. Some of our faculty have "real world" experiences that they incorporate into the classroom. We have small class sizes, and faculty who are continually engaged in research."
What can economics majors do after graduation?
A liberal arts education empowers and prepares students to deal with complexity and change through a broad knowledge of the world.  They gain key skills in communication, problem-solving, and working with a diverse group of people.  Related careeers to economics include actuary, policy planner, stockbroker, bank examiner, labor relations specialist, venture capitalist, cost analyst, market research analyst, development officer, controller, financial planner, fundraiser, lawyer, marketing, accountant, chief financial officer, and insurance analyst.
Our undergraduate economics alumni work in many sectors of the economy, with the top 6 sectors of their employers shown in the infographic above. The largest groups are business and finance firms and STEM companies (IT, engineering, energy, manufacturing, science firms), and law.
Alumnus Profile
Shadrack "Shad" White (BA political science, economics '08) received the Truman and Rhodes Scholarships. While in the student senate, he persuaded the IHL Board to establish a task force to make textbooks more affordable for students. He chaired the College Republicans and was director of the Mississippi Federation of College Republicans. He organized students to help with voter-registration drives in the Mississippi Delta, interned with the William Winter Institute for Racial Reconciliation, provided political commentary in the campus newspaper and helped with various political campaigns, including that of State Auditor Stacy Pickering.
His honors thesis – an examination of finance and education in Mississippi schools – helped him succeed in his job as an analyst with the U.S. Department of Education, then to a fellowship with Pre-K Now, a nonprofit research and advocacy group.
Shad was elected as the Mississippi State Auditor. Prior to this position, he was director of the Mississippi Justice Institute and General Counsel of the Mississippi Center for Public Policy. He earned a master's degree from the University of Oxford, England, and a law degree from Harvard Law School.
For more information
Dr. Joshua Hendrickson, Chair and Associate Professor of Economics
Department of Economics
203 Odom Hall
The University of Mississippi
University, MS 38677
(662) 915-6942 | jrhendr1@olemiss.edu