Southern Studies
What does it mean to major in Southern Studies?
Southern Studies is an interdisciplinary major, with students taking classes from across the College of Liberal Arts, including African-American Studies, anthropology, art, English, gender studies, history, music, political science, and sociology. Students get to choose the topics of their research projects in senior seminars. For Southern Studies majors, the laboratory is everywhere they look.  Students not only conduct library research but also record oral histories, take photographs, listen to music, and make films. They gain a broad understanding of the region and skills in critical reading, analysis, writing, research, and oral presentation.
There is a separate, competitive application for admission to the Southern Studies major.  Students from certain Southern states are eligible for Academic Common Market scholarship if accepted to the program and meet program requirements.
The fact sheet provides a summary of the major, information about the program, and our alumni.  The degree sheet gives the specific requirements and a sample 4-year curriculum plan.
Minor in Southern Studies?
A minor in Southern Studies consists of 6 courses, including S St 101; one course from 103-110; 401 and 402. Six additional hours are taken from a list of approved courses.  Students who complete the minor enrich their skills in the humanities and social sciences, and can help prepare for a wide range of careers.
Why is UM a good place to study the South?
The Southern Studies faculty have joint appointments in other departments such as English, History, and Sociology & Anthropology.  There are many more faculty who are affiliated with and provide courses that support the major.
Many majors enjoy connecting to the public-facing mission of the Center for the Study of Southern Culture by working with the Southern Foodways Alliance, the Southern Documentary Project, the Oxford Conference for the Book, and Living Blues magazine.
Students may earn the BA and MA in Southern Studies in 5 years through an Accelerated Master's program.  They will be even better positioned for leadership positions when they graduate from UM.
Faculty Profile
Dr. Simone Delerme, Associate Professor of Anthropology and McMullan Associate Professor of Southern Studies, earned her PhD from Rutgers University. Her research focuses on Latino migration to the South, and the social class distinctions and racialization processes that create divergent experiences in Southern spaces and places.
Dr. Delerme's book, "The Latinization of Orlando: Race, Class, and the Politics of Place," focused on language ideologies, racial formation, and the embodied social class identities that impacted Latino migration, settlement, and incorporation in Central Florida. She specializes in the anthropology of the contemporary United States with interests in Latino migration, critical race theory, language ideologies, social class inequalities, and suburbanization.
Dr. Delerme's ethnographic research examines migration to Memphis, Tennessee, and North Mississippi, places that have experienced an influx of Latinos. She has conducted oral history interviews with Latino restaurant owners and employees in conjunction with the Southern Foodways Alliance. She continues to document how Latinos have been incorporated into the social, cultural, political and economic life of communities in the Mid-South.
Why study Southern Studies at UM? "Southern Studies students have the opportunity to work closely with the faculty, collaborate in their local research projects, and gain first-hand experience about the contemporary South."
What can UM Southern Studies majors do after graduation?
A liberal arts education empowers and prepares students to deal with complexity and change through a broad knowledge of the world.  They gain key skills in communication, problem-solving, and working with a diverse group of people. Southern Studies prepares its students to be archivists, journalists, cultural affairs officers, arts promoters, museum program specialists, teachers, documentary filmmakers, policy analysts, social workers, urban planners, writers, and fundraisers, among many other possible professions.
Our Southern Studies alumni are working in many sectors of the economy, with the top six sectors shown in the infographic above. The largest groups are working with arts, culture, and media organizations.
Alumnus Profile
Neal McMillin (BA Southern Studies, economics, with a minor in environmental studies '14)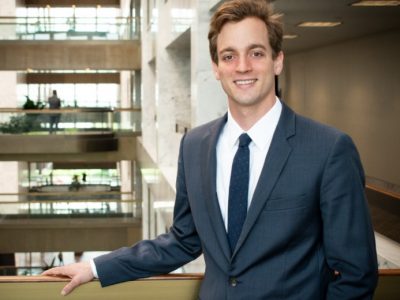 "I began with both Southern Studies and Economics majors. Southern Studies helped me examine the world and my place in it. I then decided that environmental issues represented my niche to make a difference. My work in economics laid the foundation for my perspective on environmental policy that works together with business realities and incentives."
McMillin spent time in Scotland learning about the emerging marine renewable industry with a particular focus on wave and tidal energy. His thesis focused on the community and environmental impacts of wave and tidal energy development. After an honors course on the lower Mississippi River system, he pursued a Master's in Marine Affairs at the University of Washington College of the Environment.
McMillin then accepted the John A. Knauss Marine Policy Fellowship in Washington, D.C., where he joined Senator Wicker's staff to promote Mississippi ocean policy. After a year of working on policies related to fisheries, unmanned maritime systems, and water infrastructure, he was promoted to Legislative Assistant with a portfolio that included many environmental issues.  In addition, he covered issues related to the Department of Interior. "Sen. Wicker's focus on catalyzing National Park Service support in preserving key civil rights sites is exciting and rewarding for me as a Southern Studies major." Neal's longer term plan was to return to the South as a leader in environmental policy. He is achieving that goal as Director of Federal Affairs for Louisiana Governor John Bel Edwards' Office of Coastal Activities.
Why Southern Studies at UM? "Southern Studies majors explore the South, and America as a whole, from many different angles. The wide range of classes are meaningful and intriguing. You can sample diverse disciplines and craft a personalized path forward. The faculty gave me the freedom to explore and design a thesis that was impactful to my future. My thesis on the Scottish marine renewables industry set me apart from my colleagues and led me to a marine focus in my policy degree. This experience prepared me to lead Senator Wicker's environmental policy with a local and international perspective."
For more information
Dr. Katie McKee, Center Director, McMullan Professor of Southern Studies, and Professor of English
Center for the Study of Southern Culture
Barnard Observatory
The University of Mississippi
University, MS 38677
(662) 915-5993  |  cssc@olemiss.edu