Interdisciplinary Studies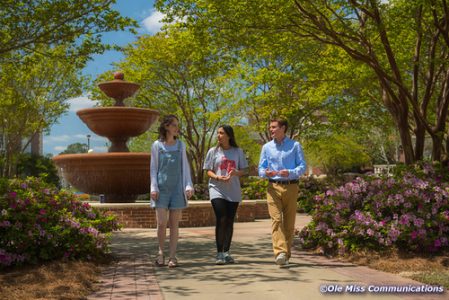 What does it mean to major in interdisciplinary studies?
Many like to think of the B.A. in Interdisciplinary Studies as a "build-your-own" major for students who feel that no single major is the right fit for their personal career goals. While this program does allow you to craft an individualized major, it is more than that. At the core of Interdisciplinary Studies is a philosophy of integration and collaboration.
We believe that some questions, some problems are too complex to be adequately addressed by a single methodology or disciplinary perspective. We also believe that some students have interests that are either too broad or too narrow for one major. Students in this program will
develop a nuanced understanding and respect for multiple disciplines
collaborate with faculty and peers across disciplines
learn to appreciate the interdependence of disciplinary knowledge
draw on the expertise and methodologies of two or more disciplines
integrate their insights and experiences to develop a personal expertise
The interdisciplinary student seeks to gather the relevant knowledge, methodologies, and experience from a variety of disciplines to develop a more complete understanding of the issue that interests them. This approach to education requires movement beyond the traditional major.
Students work with a mentor to design a 48-credit hour individualized plan of study that speaks to their specific interests or career goals not addressed by the other majors offered here at the University of Mississippi. This plan of study includes two required courses – Intro to Interdisciplinary Studies and the Capstone course – and then students select one of two options to complete the rest of the major.
Option A has courses around a unifying theme or problem with at least 2 disciplines; no more than 21 credit hours in the same discipline.
Option B has courses around a unifying theme or problem consisting of 2 minors and complementary courses. One of the minors must be from the College of Liberal Arts. At least 12 hours in each minor must be at the 300-level or higher.
Either way, students create a flexible degree program that may fit academic or career interests more precisely than a traditional B.A. degree. It is also more flexible than the Multidisciplinary Studies degree offered on campus.
See the degree sheet for the specifics.
DEGREE SHEET
Why is UM a good place to major in interdisciplinary  studies?
The College of Liberal Arts at UM includes disciplines ranging from the arts, humanities, natural sciences, and social sciences. Learning across disciplines fosters the kind of intellectual curiosity and critical thinking skills essential to success in future employment and graduate school. Interdisciplinary Studies students will leave the university better able to understand other value systems, to think conceptually, to critically engage with the work of diverse experts, and to wield their knowledge with informed intention.
Available Minors Inside the College of Liberal Arts 
Aerospace Studies, African American Studies, Anthropology, Arabic, Art, Art History, Astronomy, Biological Science, Chemistry, Chinese, Cinema,  Classics, Creative Writing, Digital Media Studies, Disaster Science, East Asian Studies, Economics, English, Environmental Studies, Ethics & Values, French, Gender Studies, German, History, International Studies, Italian, Japanese, Korean, Linguistics, Mathematics, Medieval Studies, Military Science, Museum Studies, Music, Naval Science, Neuroscience, Philosophy, Physics, Political Science, Portuguese, Professional Writing, Psychology, Public Policy Leadership, Religious Studies, Russian, Sociology, Society & Health, Southern Studies, Spanish, Swahili, Teaching English to Speakers of Other Languages, Theatre Arts.
Available Minors Outside the College of Liberal Arts
Accountancy, Applied Gerontology, Business Administration, Communication Sci. & Disorders, Computer Science, Criminal Justice, Data Science, Education, Engineering, Entrepreneurship, Geology, Global Security Studies, Higher Education, Hospitality Management, Intelligence & Security Studies, Journalism, Law Studies, Manufacturing, Marketing, Recreation Administration, Recreational Therapy
Alumna Profile
Emma Willoughby (minors in biological science, mathematics, psychology '13)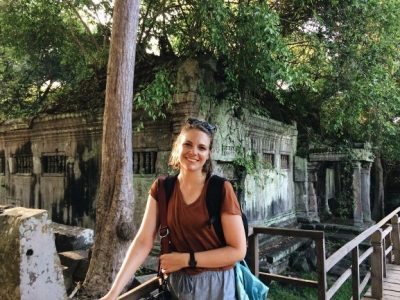 "Entering the university I was interested in medical school. But my science courses lacked world context. I began to ask questions like, "Why do people get sick in the first place?" The book Mountains Beyond Mountains got me thinking more about public health systems, policy, and politics."
Emma was a member of several honor societies including Phi Kappa Phi, a photographer for theatre productions, an opinion writer for the Daily Mississippian newspaper, tutor with the Writing Center, psychology teaching assistant, researcher with the Center for Population Studies, and founding member of the Food Bank on campus.  She participated in a bioethics fellowship at the UM Medical Center to better understand the health care system.  She then conducted ethnographic research examining health networks at a community health center in Clarksdale for her honors thesis.
After graduation Emma attended the London School of Economics for a masters in international health policy, then worked with former UM Chancellor Dr. Dan Jones in the Center for Obesity Research at the UM Medical Center.  Her research on the overlap of nutrition policy, trade policy, development, gender and race fuels her current interest in rising obesity trends.  She is pursuing a Ph.D. in health policy at the University of Michigan after teaching and traveling in Asia.

Whom should I contact to learn more?
Dr. Andrew Pfrenger, Director
Interdisciplinary Studies
University of Mississippi
104 Leavell Hall
University, MS 38677
(662) 915-1518 | pfrenger@olemiss.edu