Interdisciplinary Studies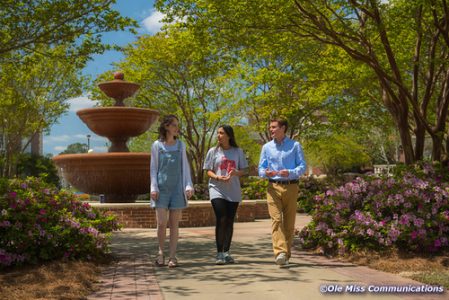 What does it mean to major in interdisciplinary studies?
The B.A. in interdisciplinary studies allows students to select three minor fields of study, two of which must be within the College of Liberal Arts. Students create a flexible degree program that may fit academic or career interests more precisely than a traditional B.A. degree. In particular, students who anticipate graduate or professional study in an area that does not require a specific undergraduate specialty (business, law, or medicine, for example) may find this program especially well-suited to their needs and interests.
See the degree sheet for the specifics.
DEGREE SHEET
Why is UM a good place to major in interdisciplinary  studies?
The College of Liberal Arts at UM includes disciplines ranging from the arts, humanities, natural sciences, and social sciences. Students choose between 60 total minors, including a range of interdisciplinary minors, to build on top of the rigorous and extensive general education foundation of the B.A. degree in the College.
Available Minors Inside the College of Liberal Arts 
Aerospace Studies, African American Studies, Anthropology, Arabic, Art, Art History, Astronomy, Biological Science, Chemistry, Chinese, Cinema,  Classics, Creative Writing, Digital Media Studies, Disaster Science, East Asian Studies, Economics, English, Environmental Studies, Ethics & Values, French, Gender Studies,  German, History, International Studies, Italian, Japanese, Korean, Linguistics, Mathematics, Medieval Studies, Military Science, Museum Studies, Music, Naval Science, Neuroscience, Philosophy, Physics, Political Science, Portuguese, Professional Writing, Psychology, Public Policy Leadership, Religious Studies, Russian, Sociology, Society & Health, Southern Studies, Spanish, Swahili, Teaching English to Speakers of Other Languages, Theatre Arts.
Available Minors Outside the College of Liberal Arts
Accountancy, Applied Gerontology, Business Administration, Communication Sci. & Disorders, Computer Science, Criminal Justice, Education, Engineering, Entrepreneurship, Geology, Global Security Studies, Higher Education, Intelligence & Security Studies,  Journalism, Law Studies, Manufacturing, Recreation Administration, Recreational Therapy
Alumna Profile
Emma Willoughby (minors in biological science, mathematics, psychology '13)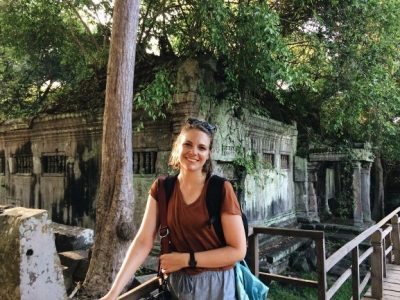 "Entering the university I was interested in medical school. But my science courses lacked world context. I began to ask questions like, "Why do people get sick in the first place?" The book Mountains Beyond Mountains got me thinking more about public health systems, policy, and politics."
Emma was a member of several honor societies including Phi Kappa Phi, a photographer for theatre productions, an opinion writer for the Daily Mississippian newspaper, tutor with the Writing Center, psychology teaching assistant, researcher with the Center for Population Studies, and founding member of the Food Bank on campus.  She participated in a bioethics fellowship at the UM Medical Center to better understand the health care system.  She then conducted ethnographic research examining health networks at a community health center in Clarksdale for her honors thesis.
After graduation Emma attended the London School of Economics for a masters in international health policy, then worked with former UM Chancellor Dr. Dan Jones in the Center for Obesity Research at the UM Medical Center.  Her research on the overlap of nutrition policy, trade policy, development, gender and race fuels her current interest in rising obesity trends.  She is pursuing a Ph.D. in health policy after teaching and traveling in Asia.

Whom should I contact to learn more?
Dr. Andrew Pfrenger, Director
Interdisciplinary Studies
University of Mississippi
W207 Bondurant Hall
University, MS 38677
(662) 915-7177 | pfrenger@olemiss.edu