Biology
What does it mean to major in biological science?
Biology majors can become part of the solution to some of the most important problems currently facing society by using modern scientific methods to understand and predict natural phenomena in the world around us.
Students choose between the Bachelor of Arts and the Bachelor of Science in Biological Science.  The BA degree allows greater compatibility with other areas of study while the more specialized BS degree requires additional mathematics and science courses, and provides more in-depth training in biology.
Biologists study living organisms, attempting to understand how they function and how they interact with each other and with their environment. By designing and conducting experiments, biologists gain new insights on a wide range of topics such as the contribution of algae or bacteria to an ecosystem, the role of the immune system in the mating behavior of birds, and the molecular events that occur during the development of a fruit fly. Biology majors gain a broad understanding of the natural world around them and possess an array of skills such as the ability to design and conduct experiments, operate sophisticated instruments, interpret data, and think critically.
The fact sheet provides a summary of the major, information about the program, and our alumni.  The degree sheet for the BA degree and the degree sheet for the BS degree gives the specific requirements and a sample 4-year curriculum plan.
Minor in Biological Science?
A minor in biological science consists of a minimum of 18 credit hours of biology courses, including the foundational sequence (Bisc 160, 161, 162, and 163), and 10 credit hours at the 300 level or above. The biology core – physiology, ecology, and genetics – is recommended.
It is a highly recommended minor to pair with the biochemistry major, and for any non-biology majors who are interested in a healthcare field or want a more in-depth understanding of the natural world and our place in it.
Why is UM a good place to study biological science?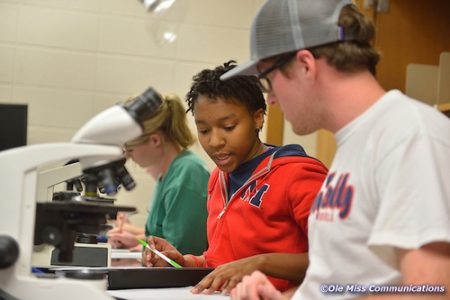 The faculty in the department have areas of specialization that include cell & molecular biology, ecology, biodiversity & evolution, and behavior & neuroscience.
Biology majors achieve an understanding of living systems and develop the ability to design and conduct experiments, operate sophisticated instruments, interpret data, and think critically.  A diversity of courses and a great variety of habitats in north Mississippi provide opportunities for both laboratory and field studies, including a 740-acre field station, a national forest, and flood-control reservoirs.
There are many opportunities to engage in the study of biology outside of the classroom and teaching labs. Students can participate in mentored scientific research working in the laboratory with a faculty member.  Adventurous students can explore diverse environments through our programs in South Florida, Grand Canyon, Belize, Costa Rica, and the Galapagos Islands.  There are department resources to help students participate in these unique programs.  Caribbean Ecology and Conservation, Ecology and Evolution of Sky Island Biodiversity, Californian STEAM: Microbial Science, Conservation, and Society, and Hawaiian STEAM: Microbes, Symbiosis, and Culture are some of the more recent travel courses.
 
Faculty Profile
Dr. Ryan Garrick, Associate Professor of Biology, earned his PhD at La Trobe University, Australia. His primary area of research is evolution, specifically looking at evolutionary biology and population genetics.
Dr. Garrick was chosen in a new Research Infrastructure Improvement Track 4 competition funded by National Science Foundation's Established Program to Stimulate Competitive Research (EPSCoR) program. His project will facilitate collaboration with colleagues at Ohio State to understand how the numbers and genetic variability of four invertebrate species found in southern Appalachian forests change as their environment changes. "Biodiversity is declining in many areas of the world due to environmental change. This fellowship will enable research using genetic techniques to study how organisms have responded to past and present environmental change. The information will aid in conservation and management of U.S. forest fauna."
Why study biology at UM? "Careers in biological sciences are increasingly requiring multifaceted skill sets—being a Jack of all trades (and master of some!)—seem to be the way of the future. Collectively, our faculty encompass a broad range of technical, theoretical and analytical expertise in fields spanning ecology and evolution, behavior, and cell & molecular biology, and this can really benefit incoming students."
What can UM biology majors do after graduation?
A liberal arts education empowers and prepares students to deal with complexity and change through a broad knowledge of the world.  They gain key skills in communication, problem-solving, and working with a diverse group of people.  Related careers in biology include health, education, research and development, conservation organization, business, government, environmental law, urban planning, science or technical writer.
Our undergraduate alumni work in many sectors of the economy, with the top six economic sectors for their employers shown in the infographic. The largest economic sector is healthcare.
Alumna Profile
Dr. Keyana Mitchell Washington (BS biological science '02)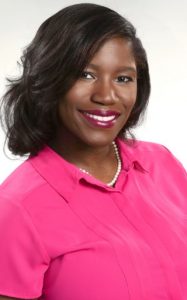 "My interest in biology started as a young child but really blossomed in high school. I was attending the Mississippi School for Mathematics and Science and had the opportunity to take a microbiology class. I really enjoyed the challenge of learning about the intricacies of the microbial life cycle and how it was intertwined with that of other living things, including humans. That class ended with a field trip to one of the CDC infectious disease labs which I found fascinating. I even considered a career as a microbiologist for a while, before I decided to become a physician."
Keyana was a member of the Sally McDonnell Barksdale Honors College, a Student Judicial Council Chair, Vice President of the Delta Sigma Theta Sorority, Secretary of Habitat for Humanity, volunteer with Increasing Minority Access to Graduate Education (IMAGE), member of Alpha Epsilon Delta (pre-med society), and inducted into Phi Beta Kappa. She earned the nationally prestigious Truman Scholar Award.
After graduation, Keyana earned her medical degree and a Master's in Public Health from Emory University. She is still located in Georgia and specializes in pediatrics and adolescent medicine. Dr. Washington is affiliated with Children's Hospital of Georgia, Gwinnett Medical Center and Gwinnett Medical Center-Duluth.
Why study biology at UM?  "UM provides an array of opportunities during the course of study in biology that will allow a student to follow whatever path they choose upon graduation. I felt very confident in my future knowing that I could leave UM and go to medical school or pursue a Ph.D. or teach or engage in research. The faculty are superb and their relationships with other departments provide many opportunities for multidisciplinary learning."
For more information
Dr. Sixue Chen, Professor and Chair of Biology
Department of Biology
214 Shoemaker Hall
The University of Mississippi
University, MS 38677
(662) 915-7203 | biology@olemiss.edu