Biochemistry
What does it mean to major in biochemistry?
Students who major in biochemistry investigate the detailed chemistry of the life process.
There are two paths to study biochemistry at UM.
Bachelor of Arts in Biochemistry
Bachelor of Science in Chemistry with an emphasis in Biochemistry
The BS degree provides a more rigorous math and science curriculum with opportunities for significant research experience. Students build a strong background in the concepts as well as computational and laboratory techniques used in biochemistry. The biochemistry curriculum follows the recommendations of the American Society for Biochemistry and Molecular Biology (ASBMB), and focuses on the composition, properties, and reactions of biological substances while students gain enhanced reasoning and problem solving skills.
The fact sheet provides a summary of the major, information about the program, and our alumni.  The degree sheet gives the specific requirements and a sample 4-year curriculum plan.
Minor in biochemistry?
There is not a minor in biochemistry. Interested students can consider the minor in chemistry. A minor in chemistry is a great combination with many other majors for those interested in entering a health care field. Students complete 19-20 credit hours, including the introductory sequence (Chem 105, 106, 115, 116), organic chemistry sequence (Chem 221, 222, 225, 226); and 3-4 credit hours at the 300 or higher level or Phcl 343.
Why is UM a good place to study biochemistry?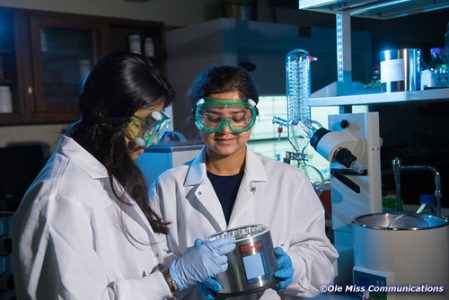 The faculty members take a keen interest in the success of their students. They provide expert career advising and plenty of individual attention. Students may become involved in research with faculty members as early as their freshman year, and many opportunities exist for students to become involved in funded summer research projects. It is not unusual for a biochemistry major to co-author a scientific article with a professor before graduating from UM. A number of students from the Department of Chemistry & Biochemistry have received Goldwater Scholarships, a prestigious national award for undergraduates who plan a career in science research. Finally, the Student Affiliates of the American Chemical Society provides a social setting for the exchange of ideas among students in the chemical sciences, arrange field trips to industry sites, and organize transportation to regional meetings of the American Chemical Society.
Faculty Profile
Dr. Randy Wadkins, Professor of Chemistry and Biochemistry, earned his PhD at the University of Mississippi and held postdoctoral positions at the Max Planck Institute, St. Jude Children's Hospital, and the Naval Research Laboratory. He was also on the faculty of oncology at the Johns Hopkins School of Medicine before joining the faculty at UM. His research interests include biophysical chemistry, molecular dynamics, fluorescence microscopy and imaging, DNA structure and structural transitions, and biosensors.
"The primary focus of my lab is on developing improved antitumor drugs. Our recent work is on 'drugging the undruggable.' Many proteins known to be involved with cancer growth are not enzymes. Enzymes have been the primary targets of drugs going all the way back to aspirin, which was introduced in 1899. Many of the current drugs on the market inhibit an enzyme's activity, which in the case of aspirin can result in reduction of inflammation and pain. But what do you do if a protein that is involved in a disease isn't an enzyme? Our work involves finding drugs that can affect the genetic expression of proteins, which effectively inhibits their activity by shutting off their production."
Dr. Wadkins spent a year working on Capitol Hill as the Biophysical Society's inaugural Congressional Fellow as part of the American Academy for the Advancement of Science. He participated in a yearlong seminar series on issues related to science policy and funding.
Why study biochemistry at UM? "Biochemistry students have nationally-renowned research scientists as their professors, while still enjoying small class sizes and a beautiful campus. It's hard to find that at other universities."

What can biochemistry majors do after graduation?
A liberal arts education empowers and prepares students to deal with complexity and change through a broad knowledge of the world.  They gain key skills in communication, problem-solving, and working with a diverse group of people.  Related careers in biochemistry include healthcare, medical research, pharmacology, toxicology, public health, pharmacy, law, and policy.
Our biochemistry alumni area worked in many areas of the economy, with the top six areas of the economy for their employer shown in the infographic. The largest group is, unsurprisingly, healthcare providers, followed by STEM companies such as manufacturing, pharmaceutical firms, and private science labs.

Alum Profile
Andrew Matrick (BA biochemistry, minor in biology '13)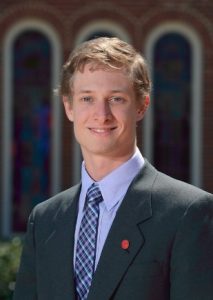 "For me, biochemistry was a perfect combination of chemistry and biology with an emphasis on the processes underlying living systems. My initial biology and organic chemistry courses ignited my interest by overviewing the foundations of living systems. More advanced courses showed me how to model and predict the complexities of life."
Matrick worked for several years on a novel synthetic compound to treat cancer at the genetic level and presented his research at the American Chemical Society national convention. He was also a researcher in the Department of Pharmacognosy, Department of Surgery (at UMMC), and MS Center for Contextual Psychology. He received the MS Associated Press Broadcast Award for the Best College Newscast, was a member of the Men's Chorus and Oxford Civic Chorus, VP for Alpha Epsilon Delta (pre-med honor society), and Outreach Chair for the Student Member of American Chemical Society from which he won the Biochemistry Award. He was inducted into Phi Kappa Phi.
After graduating, Matrick enrolled in medical school at the Pennsylvania State University College of Medicine where he served as Class Vice President and President, and earned an MBA from the Penn State Smeal MBA program. He completed his residency in psychiatry at Northwestern University while he was also VP of Operations with HealthCare Association. Matrick is now Managing Partner with Aven Harbor, PLLC.
Why study biochemistry at UM? "It is a tightly-knit program with small class sizes that provides the opportunity to have career-shaping relationships with faculty and early undergraduate involvement in research. The B.A. degree offers an incredible opportunity to explore the wonders of the world. It allowed me the flexibility to take classes like Baroque and Rococo Art and Architecture, Philosophy of Mind, and Modern American Literature that broadened my worldview and deepened my curiosity around the study of humanity."

For more information

Dr. Jim Cizdziel, Acting Chair and Professor of Chemistry & Biochemistry and Coordinator of Forensic Chemistry
Department of Chemistry and Biochemistry
322 Coulter Hall
The University of Mississippi
University, MS 38677
(662) 915-7301 | chemistry@olemiss.edu