Music
What does it mean to major in music?
Students develop their full potential by participating in a wide range of musical experiences, including performing in the many and varied ensembles, receiving individual attention in studio lessons, and taking classes in the theory, history, and pedagogy of music. Music majors acquire a broad knowledge of music history, literature, and theory, as well as skill in performance, conducting, composition, and analysis.
Students choose between the Bachelor of Arts in Music or the Bachelor of Music with emphases in music education or music performance. There are concentrations in instrumental, keyboard, or voice. The BA allows greater compatibility with other areas of study.  The BM in music education prepares students for teaching certification while the performance emphasis prepares students for graduate school or to become professional musicians.
An entrance audition demonstrating technical skills, musicianship, and musical literacy is required, and admission decisions are made on a rolling basis. Students usually require several years of formal training in a school band, choir, or orchestra, along with private lessons. Transfer students must provide a list of repertoire studied in studio lessons at their previous institutions.
The fact sheet provides a summary of the major, information about the program, and our alumni.  The degree sheets below for the various degrees, emphases, and concentrations give the specific requirements and sample 4-year curriculum plans.
Minor in music?
For students who want to continue to participate in music and develop as musicians while they are preparing for a different career path, the minor is useful. Music minors participate fully in ensembles and other music projects, and are themselves building skills for a lifetime of engagement with music in one form or another.
A minor in music requires 20-21 hours of music coursework and ensemble participation. It must include Mus 101 (3 hours); Mus 204 (3 hours); Mus 105 (3 hours); two 1-hour ensemble courses (2 hours); two 2-hour studio courses (121 level or higher) (4 hours); Mus 100 (2 semesters, 0 credit hours); and music electives, to include one upper-division course from the following list (5-6 hours). The upper-division electives list includes Mus 301, 302, 303, 304, 312, 313, 371, 405, 517, and 518. If a student pursuing a minor in music is exempted from Mus 105 (by passing the Mus 105 proficiency exam), he/she must take Mus 106.
Why is UM a good place to study music?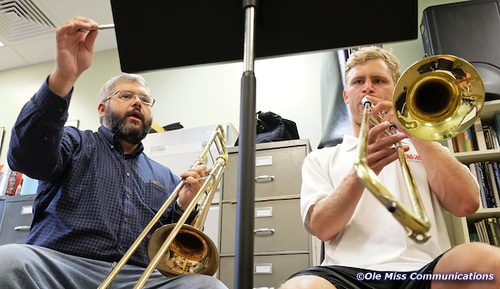 Students entering our programs become part of a vibrant community led by a distinguished and enthusiastic faculty dedicated to teaching, research and performance. The faculty includes specialists on all instruments and voice, as well as scholars of music history, theory, and pedagogy. The department provides a breadth of musical experience as well as individual attention for students in the studio, in classes, and in the many and varied ensembles, allowing students to reach their fullest potential. Our students enjoy an academic and artistic environment in which scholarly and creative work is actively produced.
Ensembles include: bands (Marching Band, Wind Ensemble, Symphonic Band, Concert Band), choirs (Ole Miss Concert Singers, Men's and Women's Glees, Chamber Singers), Opera Theatre, University Orchestra, Jazz Ensembles, African Drum and Dance Ensemble, Percussion Ensemble, Steel Drum Band, Salsa Band, and Chamber Ensembles.
Scholarships are available for students who participate in band, choir or orchestra. In addition to awards administered by those ensembles, the Department of Music awards a number of endowed scholarships for music majors and ensemble members.  The scholarships are awarded in a coordinated initiative, Major Music Advantage.
The Music Building houses classrooms, state-of-the art rehearsal and practice facilities, and a 395-seat recital hall, the David H. Nutt Auditorium. Other campus facilities used by our students include: the Gertrude C. Ford Center for the Performing Arts (a 1,300-seat theatre/concert hall), Fulton Chapel (a 650-seat concert hall) and Paris-Yates Chapel (seating 250, and the home of the university's 32-rank, 1642-pipe organ built by Karl Wilhelm).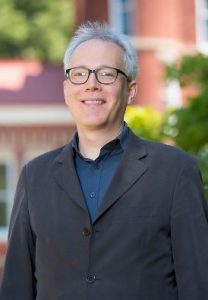 Faculty Profile
Dr. Thomas Peattie, Associate Professor of Music, earned his PhD in historical musicology from Harvard University, and has research interests in the music of Gustav Mahler, early modernism, ecocriticism, and the relationship between performance and recorded sound.  Dr. Peattie spent a recent semester on a prestigious fellowship at the Italian Academy for Advanced Studies in America at Columbia University where he was part of a multidisciplinary cohort of scholars whose work focuses on Italian culture, science, and society. His project on the music of 20th-century Italian composer Luciano Berio is part of a new book on Berio's transcriptions of musical works by other composers.
"I have always been fascinated by Berio's practice of taking an existing musical work and using it as a point of departure for the creation of an entirely new composition.  What I find so compelling is the extent to which these newly fashioned pieces offer a kind of musical commentary on the unrealized potential of the original material."
Why study music at UM? "Whether one wishes to be a performer, teacher, or academic, the music major provides students with the necessary foundation for better understanding the central role that music plays in our lives. By acquiring and refining a range of skills specific to the performing musician, students develop tools whose transformative potential can be adapted to a variety of contexts from the classroom to the concert hall.
Our department is an energetic community dedicated to expanding the creative and intellectual horizons of each student. In addition to the highest level of technical training we also challenge our students to develop a deeper awareness of music's ethical, philosophical, and aesthetic dimensions, particularly as it relates to the broader social and political contexts in which music is created, performed, and received."
What can music majors do after graduation?
A liberal arts education empowers and prepares students to deal with complexity and change through a broad knowledge of the world.  They gain key skills in communication, problem-solving, and working with a diverse group of people.  Related careers in music include music teacher, performer, accompanist, arranger, arts administrator, church musician, composer, conductor, instrument technician, music publisher, music contractor, music retail store manager, and recording technician.
Our undergraduate music alumni are working in many sectors of the economy, with the top six groups in the infographic above. The largest groups are K-12 education, arts/culture/media, and higher education.
Alumna profile
Portia Davis (BM emphasis in music education, concentration in piano '13)
"I have always been interested in music. I attended many concerts and was in choir.  In elementary school I was a competitive dancer; feeling the emotions in music through dance shaped me into the musician that I am today. My first piano teacher saw my passion for music even when I couldn't see it.  I began playing in public, and was soon competing in state and national competitions. By my senior year, I couldn't see myself doing anything else.  At my audition at UM I visited with faculty and knew I had found my home away from home, a place that could allow me to express myself. Little did I know the impact that Ole Miss would have on me."
As an honors student, Portia ultimately wrote her senior honors thesis on a comparison between Chinese opera and Western opera.  She studied piano with Professor Hominick, who "challenged me every week in lessons and prepared me for collegiate competitions and a very successful senior recital." She accompanied voice and instrumental students, an experience that would influence her later.
After graduation, Portia attended the University of Illinois Urbana-Champaign to earn a MA in Piano Pedagogy and a MA in Vocal Coaching & Accompanying.  She moved to Jackson, Mississippi to teach piano and theory at the Power Academic and Performing Arts Complex with the Jackson public schools.  She is also the Assistant Collaborative Pianist with the Mississippi Chorus.  "It is fun to see my students become well-rounded musicians. I use many skills that I learned at Ole Miss every day in my teaching."
Why study music at UM? "Undergraduate years can be sometimes overwhelming because big decisions are made. While it is true that UM is a large school, the department felt like home and my classmates and teachers felt like family.  The faculty want to see their students succeed and will make your dreams a reality."
Whom should I contact to learn more?
Nancy Maria Balach, Chair and Professor of Music
Department of Music
164 Music Building
The University of Mississippi
University, MS 38677
(662) 915-7268 | music@olemiss.edu