The students, from a variety of majors, learn from the renowned Malpaso Dance Company
NOVEMBER 13, 2017 BY CHRISTINA STEUBE
A University of Mississippi theatre arts professor is giving eight students the opportunity of lifetime to study modern dance in Cuba.
Malpaso Dance Company, one of the most sought-after Cuban dance companies, partnered with the Department of Theatre Arts and Mississippi: The Dance Company to instruct students in Oxford this month and for two weeks in Havana in December. Their work culminates with a Jan. 27 performance alongside Malpaso at the Gertrude C. Ford Center for the Performing Arts.
Jennifer Mizenko had the idea of leading a class to Cuba about a year ago, and has worked to put this course together since.
"I've always been fascinated by Cuba, since it's been so off-limits for so long," she said. "Cuban rhythms and dance are complex, sensuous and provocative, so putting all of this together is like bringing a huge dream to life."
Once the idea materialized, she researched dance companies and found Malpaso, which proved to be a perfect fit for the program.
Mizenko approached Julia Aubrey, director of the Ford Center, earlier this year about the possibility of sponsoring a performance by the dance company. Aubrey was immediately supportive of the initiative, which directly supports the educational goals of the Ford Center.
"I believe arts collaboration is an important aspect of the mission of the Ford Center," Aubrey said. "Since this project involved an enhanced cultural experience for the university students and our Ford Center patrons, I accepted her proposal to share resources and contracted with the international company to present Malpaso in January 2018.
"As you see, it has taken a year of planning to make this event a reality. We have opened our doors to the dance students and the Cuban artists for rehearsals and a performance that celebrates the importance of the arts as an international language understood by all peoples."
Osnel Delgado, Malpaso's artistic director, one of the company's founders and professor of dance studies at the National Dance School of Havana, will teach participating students a new and original work during International Education Week, Nov. 13-17. The dance company will rehearse with students throughout the week and also visit other courses to promote international education.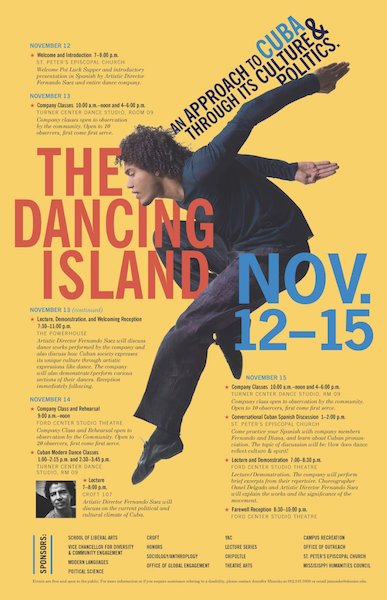 Alexis Boucugnani, a sophomore theatre arts major from Athens, Georgia; Madeleine Bradley, junior exercise science major from Memphis; Maddy Friedman, freshman elementary education major from Madison, Wisconsin; Mary Lacy Lusk, junior general studies major from Troy, Alabama; Rachel McKellar, junior English major from Purvis; Makenzie Menaker, freshman general studies major from Mobile, Alabama; Lydia Myers, junior theatre arts major from Laurel; and Victoria Penegor, sophomore mathematics major from Breckenridge, Colorado, each auditioned for a slot in the two-week course.
Students will live with Cuban families for two weeks, Dec. 9-23, while studying in Havana. They will spend several hours rehearsing each day while also learning about the history of Cuban rhythm, taking a salsa class, visiting museums and touring Old Havana.
"I've been a dancer since I was 2, and I have trained in just about every style, but Cuban modern dance is really unique," Menaker said. "I feel like I'm about to learn a whole new dance style that will add to my repertoire and help me grow as a dancer."
Though students will study primarily dance technique, they also will be assigned reading while in Cuba and will be asked to reflect on how the movement they are studying reflects the country and its culture.
"I've always provided guest artists for my students and I always want to challenge them with new things," Mizenko said. "I wanted to step up the game and include an element of studying another culture and its customs, social mores, politics and also dance."
They also will have opportunities to work with Delgado's parents and Cuban dance icons Esteban Delgado Betancourt and Idania Wambrug Rodriguez. Betancourt was a dancer with Danza Contemporanea Cuba for more than 15 years, and Rodriguez is a teacher at the National Dance School of Havana.
Mizenko hopes the students, who are from all different majors and backgrounds, will develop a greater understanding of professional dance and a choreographer's vision, as well develop a greater independence and awareness of living and working in a different culture.
Even though travel is open between the United States and Cuba, the process of putting an entire course together remains more difficult than if traveling to other countries. U.S. citizens still need to secure visas through one of 12 reasons to travel to Cuba – in this case, education.
"'Dance in Cuba' is the first faculty-directed program to Cuba for the University of Mississippi, and the Study Abroad Office is proud to offer such a unique opportunity to our students," said Blair McElroy, UM interim senior international officer and director of Study Abroad. "Professor Mizenko's vision and enthusiasm for the program has been inspiring."
The Study Abroad Office has worked closely with International Studies Abroad, a study abroad program provider that has assisted in implementing this program.
"ISA has been working on custom programs in Cuba for many years, so we were confident that they would be a strong partner to assist us with the logistics of the program," McElroy said.
ISA has paired students with host families, assisted with securing travel visas, arranged transportations and planned educational excursions for the group.