Conor Dowling, co-authors receive national praise with Louis Brownlow Book Award
OCTOBER 26, 2018 BY ALLY LANGSTON
A book exploring the weaknesses of modern health care policy, co-authored by University of Mississippi political scienceprofessor Conor Dowling, has won the Louis Brownlow Book Award, a prestigious honor for scholars in the public administration field.
This is the second award for "Unhealthy Politics: The Battle over Evidence-based Medicine" (Princeton University Press, 2017). This summer, the book received the Don K. Price Award from the Science, Technology and Environmental Politics Section of the American Political Science Association.
"I wanted to contribute to 'Unhealthy Politics' because health policy is an area of scholarly interest of mine, and what to do about wasteful medical spending and the medical evidence problem are issues in need of solutions," Dowling said. "I was incredibly humbled and honored to receive the Louis Brownlow Award with my co-authors."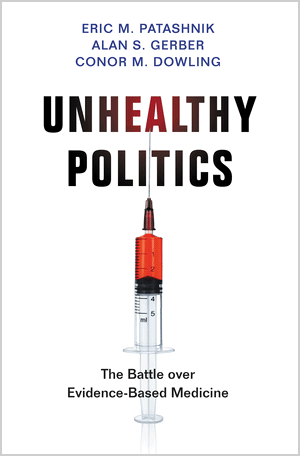 "Unhealthy Politics" explores how partisanship, polarization and medical authority hinder evidence-based medicine by analyzing surveys, case studies and political incentives. The book offers insights not only into health policy, but also into the limits of science, expertise and professionalism as political foundations for pragmatic problem-solving in American democracy.
John Bruce, chair and associate professor of political science, said he is proud Dowling's contributions to the department.
"Any time faculty are recognized externally, (it) produces a positive benefit for the department," Bruce said. "We know we have strong faculty here, and that they are doing good work. When one of them is recognized nationally for their work, it helps remind others of what we already know."
The National Academy of Public Administration awards the Louis Brownlow Book Award to an outstanding contemporary piece that accurately analyzes a problem or the performance of a government institution in the public administration field.
Dowling is also co-author of "Super PAC! Money, Elections and Voters after Citizens United" (Routledge Press, 2014)  and has written more than 30 articles published in peer-reviewed journals.
For more information about the Department of Political Science, visit https://politicalscience.olemiss.edu/.