UM language program and military cadets both benefit from realistic simulation exercise
APRIL 29, 2016  |  BY MICHAEL NEWSOM
Two neighboring Muslim villages – one Sunni and one Shia – were locked in a dispute after one of the communities accused the other of intentionally contaminating its drinking water.
Fourteen students from the University of Mississippi Arabic Language Program and 250 ROTC cadets from UM and four other Mississippi universities found themselves in the thick of it. But the conflict wasn't real; rather, it was only a drill to sharpen their language and mediation skills.
The simulated dispute was part of "Operation Magnolia Lightning," staged at the Mississippi National Guard's sprawling Camp McCain Training Center near Grenada.
The UM students came up with the water dispute storyline and spent a week in class developing key roles they chose to play in each village, said Allen Clark, assistant professor and director of UM's intensive Arabic program. ROTC cadets were the military force dispatched to intervene.
"There were sectarian differences and ideological differences between the two villages," Clark said. "The students had to figure out how to bridge the gap between English and what we know as cultural norms, how to cross that bridge and also what behaviors were accepted by the Arabs and the Muslims.
"The ROTC cadets had to figure out how to find certain common elements within these two villages and solve their problems at a shura (negotiation)."
Being thrust into the conflict forced the ROTC students and the Arabic students to rely on one other's skill sets, much like they would in the "real world," Clark said.
"The ROTC students have to depend on our knowledge of Arabic, and we depend on their knowledge of military science to make this work," he said. "It leads to what we hope to be close to a real-life scenario, like experiential language learning for us and experiential real-world military training for them."
The event showed Army ROTC cadets how to interact with a given populace despite language and cultural barriers, said U.S. Army Lt. Col. E. Scott Walton, UM professor and department chair of military science and leadership. The complexity of the conflict and longstanding divisions between the two groups also forced them to adapt and think critically.
"If they didn't display proper customs and courtesy, properly use their interpreter or take into considerations the local's needs, the scenarios became much more challenging," Walton said. "Much of which is very relevant today as these students will very soon go on and lead soldiers in various countries with differing missions.
"Having the Arabic department out there was essential for achieving these outcomes."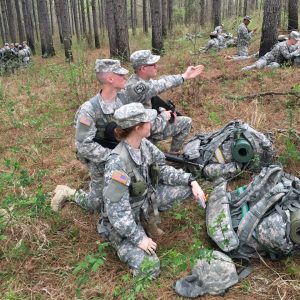 Sabrina Kosloske, a UM senior linguistics and Arabic major from Stafford, Virginia, worked as a translator for one of the villages. She quickly came to understand the difficulties of overcoming language barriers in a tense environment.
"It opened my eyes to how important translators are," Kosloske said. "They can soften someone's words or make them more offensive. Cultural customs were hard to get across."
James Stubbs, a junior Arabic and political science major from Bolton, played the role of a sheik, which is the social and religious leader of an Arabic tribe, family or village. He represented his village in negotiations with the other village, which were held exclusively in Arabic and translated to the cadets acting as soldiers who facilitated the shura.
"Operation Magnolia Lighting not only gave the UM Arabic department a chance to practice our language skills, but also to help members of the Army ROTC better understand the culture of the Near East and value of communication, which is essential to the success of operations overseas," Stubbs said.
Corey Fuller, a senior Arabic major from Pinson, Alabama, is also an ROTC cadet in charge of operations for the ROTC program. His role in Operation Magnolia Lightning was to use the "Military Decision Making Process" with other members of his battalion staff to come up with a scenario that would be mutually beneficial to the cadets and the Arabic students.
"We accomplished this through the help of our cadre and the Arabic department," Fuller said. "The cadets were forced to adapt in a both culturally and linguistically different environment to make decisions that would drive their mission success."
Zach Crosby, a freshman Arabic and international studies major from Baltimore, played the Shia imam at the shura. He answered many questions about his village, never straying from speaking in Arabic.
"I was able to speak to many soldiers about mundane things, but it allowed for the creation of a more cohesive image of the village," Crosby said.
"Having very few people around me who spoke Arabic made it easy for it to fall right off my tongue. This was because I was no longer held back by the fear of making a mistake. It was definitely a great feeling to speak without limitations."
For more information about the Arabic Language Program at UM, visit http://olemiss.edu/arabic/Academics/minor.htm.