Taught by Ann Fisher-Wirth, professor of English and director of the environmental studies minor, the Nature Writing course allowed students to work on environmental life writing projects. A spring break trip to Costa Rica provided ecological activities.
Click here to read their writings and look at their photos >>
Here's Professor Fisher-Wirth's introductory blog post: 
UPPER SAN LUIS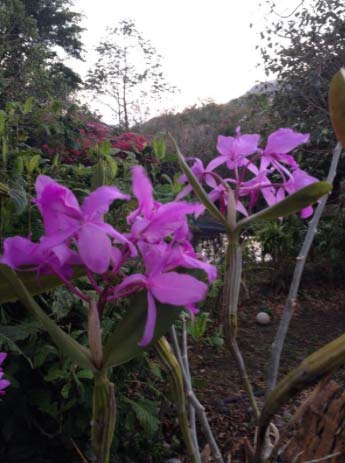 We are sweating, dusty, in the midday sun of Upper San Luis, Costa Rica. Abby and Michael haul a log, one at each end, the log as thick as my thigh, then one-two-three, yo heave ho, they toss it on the brush pile at the edge of the field. Kendall, Mary, and Maggie wrap tattered canvas bags around enormous piles of grasses and leaves, and carry them in a bear hug. Ann's in the underbrush, raking. Cathy and I are dragging seemingly endless spikes of bamboo. Meanwhile, the two young men we never met are weed-eating the other side of the field; Hugo and his pretty, shy wife tote brush and gather sticks; and handsome, wolf-eyed Noah, straddled in a thick copse of bamboo halfway up the hill, whacks and slashes steadily at trunks and branches, diminishing trees, finally taking them down, hour after hour, stopping only to sharpen his machete.
We're here for the morning, helping to clear a field the size, Michael says, of two football fields, for the tiny town of Upper San Luis, kitty-corner from their spanking new Community Center — the field, given to the town as part of the Finca la Bella, to become a playground por los niños, an extension of the library, perhaps even — if there's enough land — a volleyball court as well. We've come from Ole Miss on Study Abroad to the UGA Ecolodge at San Luis, near Monteverde, as part of our course in Nature Writing: autobiographical creative nonfiction, pieces that grow from our developing awareness of how inextricably we are embedded in environment — how we are environments, self and other-than-self not separate, as we are taught in our highly individualistic culture, but interdependent, intertwined, the health and wellbeing of each of us not possible without the health of that which gives us life. Pura Vida, the local greeting, I'm told: May you be full of life.
And so it's lovely to see this community, the handful of people halfway up a mountain, taking time away from their jobs to work together for the good of all. Others will volunteer later, to smooth the ground, pour concrete, build whatever they're going to build; the town will decide, in community meetings. Bit by bit, the field — which was a tangle and snarl of scrubby trees, bamboo, and clotted grasses — gets cleared, and the brush pile grows mountainous and sprawling. What will they do with it? I ask. Mulch it, Hugo answers, use it for compost.
Sweaty, dusty, a little scratched and bitten, we gather for a break in the Community Center for horchada, apples, cookies. Someone goes to summon Noah, who, we're told, won't stop once he gets going. Mostly we don't speak Spanish — except for Cathy, who's Peruvian, and Ann, who lived in Ecuador. But we grin. And grin. And grin.