Mrs. Gail Russell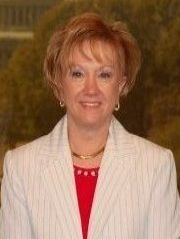 A native of Murray, Kentucky, Gail Russell received her BA in political science from the University of Mississippi in 1976. She was an officer in Mortar Board, national senior women's honor society and Pi Sigma Alpha, political science honor society. She returned home and earned her Juris Doctor degree in 1979 from University of Kentucky College of Law. Now a partner with the Louisville law firm Goldberg Simpson, her main areas of practice are bankruptcy law and creditors' rights.
Former state GOP chairwoman Mrs. Russell served as Kentucky's Republican National Committeewoman from 2005-2012. She is active in many organizations in the Louisville community. She is a member of the Fillies, the volunteer organization that offers event support for the Kentucky Derby Festival; Junior League of Louisville; Opera Guild; and Second Presbyterian Church. She previously served on the Board of Directors of the Louisville Deaf Oral School, the Board of Directors of the Louisville Deaf Oral School Foundation, the Kentuckiana Girl Scout Development Advisory Board, president of the Kiwanis Club of Louisville, and board member of Kentuckians for Strong Leadership.
"Ole Miss provided me a tremendous educational opportunity, and I left campus prepared to compete at the next level. I owe a debt to this university for giving me a wonderful foundation upon which to build a legal career."
Gail and her husband, Ken Potish, a retired banker, reside in Louisville, KY.