Mr. Johnny McRight
---
BS biology and chemistry '73; MCS biology '75
---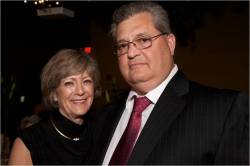 Mr. Johnny McRight owns and operates DeltAg (formerly McRight Services, LLC), which formulates and manufactures a complete line of crop biostimulants and micronutrients for agriculture.
John Peter (Johnny) McRight, grew up in Greenville, Mississippi, and completed a BS in biology and chemistry at the University of Mississippi in 1973, with a MCS in biology in 1975. "Thanks to my studies under Dr. Bailey Ward a plant physiologist at UM, my interest and understanding of plant nutrition really flourished," he stated.
After completion of his Masters, Johnny and his wife, Renee, moved home to Greenville and started McRight Soil Testing, Inc. Shortly thereafter he opened a private soil testing laboratory to process his own samples. Later he added plant tissue testing, crop monitoring, and nutrient consulting services. Between 1979 and 1990, Mr. McRight introduced poly-pipe to the Mississippi Delta, co-founded Delta Crop Insurance Agency, Inc., and introduced the concept of biostimulants and the McRight product line to the growers of the Arkansas-Louisiana-Mississippi Delta. By 1998 McRight Services, LLC had been converted to 100% wholesale product sales through major agricultural distributors. After many years and literally millions of acres of soil and plant tissue testing and consulting, he developed a chemistry designed to reduce stress and improve crop response to fertilizers.
Currently, Mr. McRight still owns and operates the company as McRight Services, LLC, and formulates and manufactures a complete line of crop biostimulants and micronutrients for agriculture under the name DeltAg. These formulations are sold throughout the world. He is a member of the Washington County Economic Alliance, Mississippi Community College Board of Trustees, Delta Region-State Workforce Development Board, and the American Quarter Horse Association Show Committee and the Judges Approval Committee.
Johnny and Renee created the McRight Biology and Speech Pathology Endowment at UM in 2010 as a way of recognizing the role that education played in their professional careers in agricultural research, testing and product development and speech pathology (respectively) and noted UM professors who mentored them. "I think that's why so many Ole Miss alumni give back—we've had great college experiences and then such good experiences in our own careers because of that education."
Johnny comes from a family with numerous ties to the university, including his parents, the late Lila Lee Nosser McRight, who was elected Miss Ole Miss in 1946, and his late father, W.O. "Bill" McRight, who played football and graduated in 1949. Their daughter, Meriwalker McRight Nipper, carried on the UM tradition, earning a bachelor's degree in biology, before joining DeltAg Formulations. They have 4 grandsons and maintain a home in Oxford.