February 23, 2016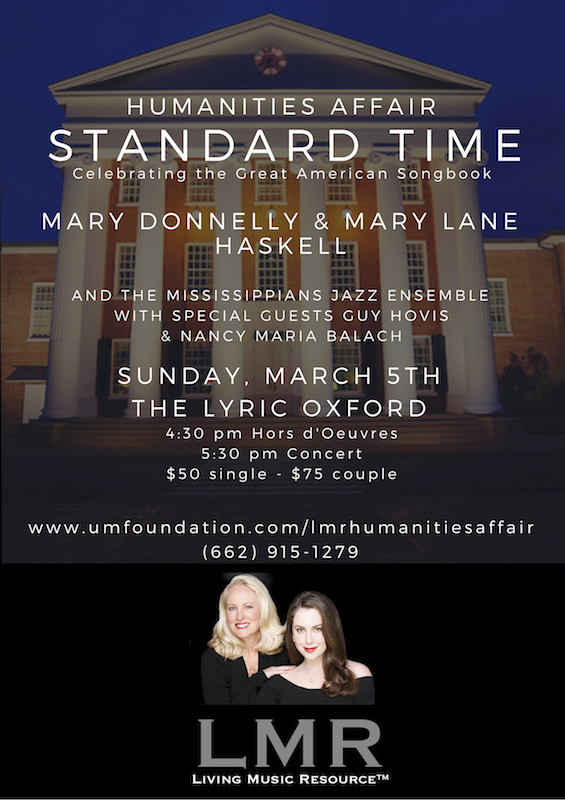 Join us Sunday, March 5th at The Lyric, 1006 Van Buren Avenue in Oxford from 4:30–6:30 pm for an incredible evening of food and music featuring alumna Mary Donnelly Haskell and her daughter Mary Lane Haskell, performing songs from the Great American Songbook with the Mississippians Jazz Ensemble. Additional performers will include Guy Hovis and Nancy Maria Balach, associate professor of music.
This event benefits the University of Mississippi Department of Music, funding innovative educational events with esteemed artists that are produced by the Living Music Resource™ (LMR LIVE interview series, "Between the Bar Lines master classes, "Shoulder to Shoulder" Q&A sessions, Productions, and the "Next Step Audition Day").
Mary Donnelly Haskell is an alumna of the music department, a successful TV actress, has performed at the Kennedy Center, and sung at a presidential inauguration.
Mary Lane Haskell has performed at Carnegie Hall with Michael Feinstein and Elaine Stritch, serves on the Great American Songbook board, and appears regularly on TV series and movies.  Most recently, she was featured on NBC as Miss Moody in the Dolly Parton movie Christmas of Many Colors.
Mary Donnelly and Mary Lane will also be featured on an LMR LIVE interview on Tuesday, February 28th 7:30-8:30 pm at the Powerhouse Community Arts Center, 413 S. 14th Street in Oxford, and will lead a "Between the Bar Lines" master class on Wednesday, March 1st noon-1:50 in the Music Department Choir Room.
Visit www.umfoundation.com/lmrhumanitiesaffair to reserve your spot on the guest list for this incredible event ($50 single/$75 couple)!