Classics Professor Discusses Economics of Color in Ancient Rome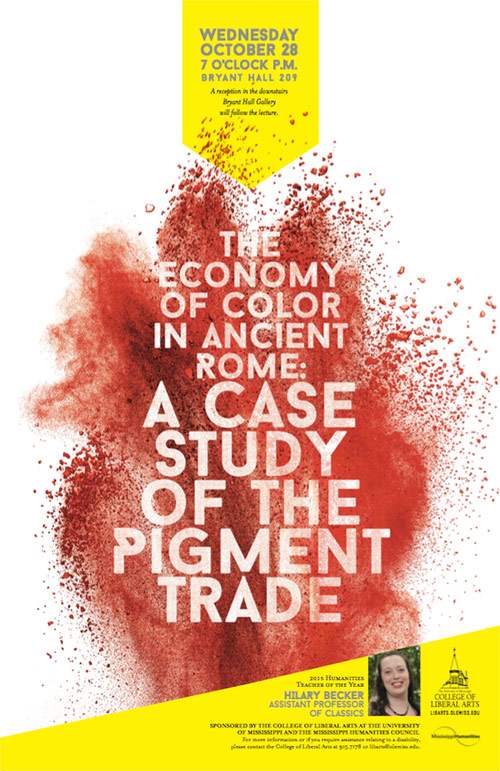 A classics professor selected as the 2015 University of Mississippi Humanities Teacher of the Year is delivering a lecture as part of her honor.
Hilary Becker, assistant professor of classics, addresses "The Economy of Color in Ancient Rome: A Case Study of the Pigment Trade" at 7 p.m. Oct. 28 in Bryant Hall, Room 209. The free public event is co-sponsored by the UM College of Liberal Arts and the Mississippi Humanities Council.
The lecture is based on Becker's recent work at the excavation of S. Omobono in Rome, the site of the only pigment shop known from ancient Rome.
"This lecture goes behind the scenes of Roman paintings to flesh out the economics of the ancient pigment supply industry," she said. "Certain colors in ancient Rome were exorbitantly expensive, providing not only opportunities to show off wealth but also creating an occasionally dodgy market with some counterfeit materials.
"This interdisciplinary study uses not only archaeology, ancient texts and an understanding of ancient trade, but also the tools of ancient and modern science."
The award recognizes outstanding contributions of humanities faculty during October, which is National Arts and Humanities Month, and at the council's annual awards ceremony in the spring. Becker said the award will encourage her to keep looking for new challenges and opportunities for her students.
Becker is a great choice for the award, said Molly Claire Pasco-Pranger, UM chair and associate professor of classics.
"Dr. Becker is one of the most enthusiastic and dedicated teachers I've ever worked with," Pasco-Pranger said. "She has taught at least a dozen different classes in her three years at the university, and is as strong a teacher of Latin as she is of her specialty courses in Roman and Etruscan art and archaeology. We are all looking forward to what she has to say in her lecture."
A member of the University of Mississippi faculty since 2012, Becker teaches courses in Etruscan, Roman and Greek art and archaeology. She holds a bachelor's degree from Bryn Mawr College and master's and doctoral degrees from the University of North Carolina.
Becker's research focuses on the archaeology of the Mediterranean basin and in particular on the economy of the Romans and Etruscans. She has published articles dealing with Etruscan property, archives, settlement patterns and Etruscan economy, as well as Roman women in the commercial workplace. She is working on a book on the topic of the lecture, entitled, "Commerce in Color."
"Because the Mississippi Humanities Teacher of the Year award honors individuals who make outstanding contributions as faculty, Professor Becker is an ideal recipient," said Lee M. Cohen, dean of the College of Liberal Arts. "When you consider her significant scholarly contributions along with the high praise she receives from the students that enroll in her classes, I am very pleased she is being recognized at the state level."
The Mississippi Humanities Council sponsors, supports and conducts a wide range of public programs in traditional liberal arts disciplines designed to promote understanding of our cultural heritage, interpret our own experience, foster critical thinking, encourage reasonable public discourse, strengthen our sense of community and empower Mississippi's people with a vision for the future.
For more information or if you require assistance relating to a disability, please contact the College of Liberal Arts at 915.7178 or libarts@olemiss.edu.
October 21, 2015 | By EDWIN SMITH