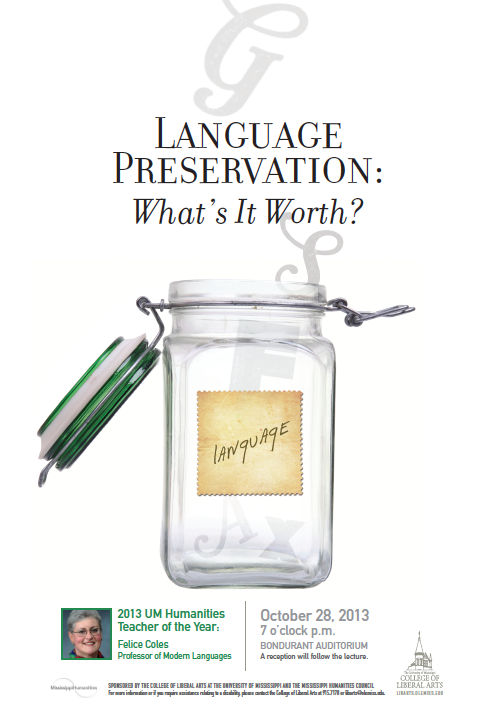 The 2013 University of Mississippi Humanities Teacher of the Year Lecture will be delivered later this month by Felice Coles, professor of modern languages.
The lecture, which Coles titles "Language Preservation: What's It Worth?" is set for 7 p.m. Oct. 28 in Bondurant Hall Auditorium. The lecture is sponsored by the College of Liberal Arts and the Mississippi Humanities Council.
The Humanities Teacher Award recognizes outstanding contributions of humanities faculty during October, National Arts and Humanities Month, and at the Mississippi Humanities Council's annual awards ceremony in the spring. Coles said she's appreciative of the award because it means that in addition to her own efforts and the support of her mentors and colleagues, students have been showing results.
"I feel grateful to work in such an encouraging and intellectual environment," Coles said.
She plans to speak about how languages hold insight into human knowledge and history and how preserving them can't be valued in economic terms alone, but also in social terms and in the well-being and spirit of the community. She will discuss how "small Spanish and French rural communities with lively programs are better off, not necessarily in finances, but in happiness and security."
Coles is very deserving of the recognition, said Donald L. Dyer, UM chair of modern languages.
"Dr. Coles is one of the finest teachers and researchers that the Department of Modern Languages has to offer," Dyer said. "The students love her for the excellent and interesting instruction she provides, and her colleagues have the utmost respect for what she has accomplished as a professional. We are all looking forward to what she will say in her lecture."
A member of the UM faculty since 1994, Coles teaches courses in Spanish and linguistics. She is also editor of the Southern Journal of Linguistics and spends time researching dialects of U.S. English and Hispanic "sociolinguistics and language obsolescence." She holds a bachelor's degree in Spanish from Louisiana State University, a master's in linguistics from the University of Utah and a doctorate in linguistics from the University of Texas.
"The Humanities Teacher of the Year award recognizes Dr. Coles' outstanding work and her significant contributions to teaching," said Glenn Hopkins, dean of the College of Liberal Arts.
The Mississippi Humanities Council sponsors, supports and conducts a wide range of public programs in traditional liberal arts disciplines designed to promote understanding of our cultural heritage, interpret our own experience, foster critical thinking, encourage reasonable public discourse, strengthen our sense of community and thus empower Mississippi's people with a vision for the future.
The College of Liberal Arts is the university's oldest and largest division. Visit libarts.olemiss.edu for information.
 BY MICHAEL NEWSOM