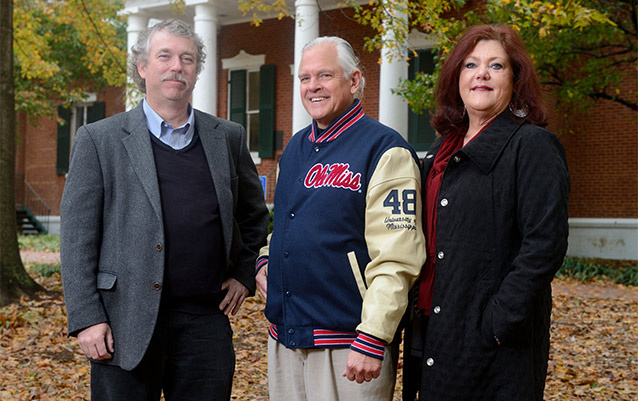 As native Mississippians, Ron and Becky Feder grew up steeped in the folkways of the American South. But it took an extended stay in the Philippines during a 34 year Air Force career to help them truly appreciate the extraordinary—and decidedly unique—culture of their homeland.
The Ocean Springs residents have been donating their money and time to the study and preservation of Southern culture ever since. Most recently, the couple provided a second gift of $100,000 to the Center for the Study of Southern Culture to support the Oxford Conference for the Book, a three day long event—free and open to the public—that brings writers, editors, and other people in the book world for lectures, panels, and readings with additional programming for area schoolchildren now in its 21st year.
It's one of many such gifts to the University over the years from the Feders, who previously donated $100,000 to the conference and another $100,000 to the Center's Music of the South Endowment Fund, plus $50,000 to the Southern Foodways Alliance.
"A gift like this is pretty extraordinary, both because it is such a big help to the Oxford Conference for the Book and also because it makes it much easier to plan for the future of the conference," said Ted Ownby, director of the Center. "The funds will pay a lot of the travel expenses of the speakers and allow the conference to attract the diverse group of people—writers and publishers and agents and others—that make the OCB such a unique event."
As chair of the Center's advisory board, attorney Ron Feder (B.A. political science, '73, J.D. '81) urges his fellow southerners to support its programs, including the Music of the South Conference and the Southern Foodways Alliance. Too many denizens of the South "don't appreciate Southern culture as something unique or special," he said. "They enjoy life down here and just don't ponder the hows or the whys."
The Center is open to receive gifts from individuals and organizations by sending a check to the University of Mississippi Foundation, P.O. Box 249, University, MS 38677, or contacting Nikki Neely, director of development for the College of Liberal Arts, at 662-915-6678 or nlneely@olemiss.edu, or by visiting online www.umfoundation.com/makeagift.