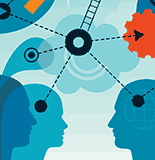 To better understand the world and to tackle its complex problems, collaboration between disciplines offers a critical path forward. Faculty combine research and teaching interests to give students multidisciplinary educational opportunities. In this special section, we present the latest offerings in the College—two new minors, a new integrated fine arts course, and integrated science courses—along with a glimpse of the other multidisciplinary majors and minors.
Cinema, East Asian Studies, Environmental Studies, Gender Studies, Medieval Studies, and Neuroscience multidisciplinary minors enrich degrees programs. Two minors created in 2015–16—Digital Media Studies and Society & Health—offer even more experiences, skills, knowledge, and networks to equip students for a variety of careers in our fast-changing world.
"Students can prepare for exciting and contemporary technology applications by combining their major with the Digital Media Studies (DMS) minor's choice of emphases in computing, digital arts, and/or digital communications," said Robert Cummings, chair and associate professor of writing and rhetoric and director of DMS. "It is a novel pathway into the creative economy of the information age."
The College of Liberal Arts, School of Engineering, and Meek School of Journalism and New Media proposed the minor with faculty from across academic programs, UM Libraries, and Information Technology staff presenting 31 courses such as Web Programming, Creative Visual Thinking, Digital Rhetoric, Graphic Design, and Digital Photography.
In the foundational course, Introduction to DMS, students explore ethical and legal issues while using a broad range of tools and techniques to learn about technologies of communication, scholarly inquiry, politics, business, entertainment, and everyday life. For example, a week on digital narrative focuses on narrative in its many forms, digital storytelling, the age of the micronarrative, along with a tech focus on global app use. Another week will be about games with discussion on virtual worlds, group think and violence, and Oculus Rift along with a tech focus on virtual reality."
"DMS complements the traditional computer science minor by preparing students to design and develop software systems from core principles," said Dawn Wilkins, professor and chair of computer and information science. "The DMS minor with computing emphasis empowers students to use computational tools to create digital solutions for real-world problems. A potential employee with computing or digital media experience stands out for positions in a broad range of disciplines."
The minor addresses growing academic and employment demands in web development, business data analytics, computational art, digital graphic design, data visualization, internet and social media marketing, and mobile application development. Katie Krouse added the minor to her Integrated Marketing Communications degree. "After learning about the DMS emphasis in digital arts, I decided to expand my creative skills and overall digital knowledge to achieve a forward thinking and creative marketing career," she said.
"The Society & Health minor arose partially as a result of changes in the medical school entrance exam, shifting expectations for the education of health professionals, and recognition of the need for interdisciplinary approaches to address health problems," said John Green, professor of sociology and director of both the Center for Population Studies and the new minor.
Socioeconomic, cultural, and psychological factors associated with human health, coupled with ethical healthcare practice and policy implications are the minor's focus. Students learn a social science and humanities-based approach and an appreciation for team-based problem solving.
The Medical Humanities core course provides a weekly shadowing experience at Baptist Memorial Hospital–North Mississippi. In class, students discuss their observations and readings.
"The goal is to gain a deeper understanding of factors that shape the human experience of illness and medicine in a contemporary clinical setting, such as historical, cultural, societal, emotional, economic, or religious factors," said Sarah Moses, assistant professor of religion. "Students get a holistic perspective on medicine that will help them, whether they plan to be doctors, healthcare administrators, policy advocates, or hospital chaplains."
Faculty from Liberal Arts, Applied Sciences, Journalism and New Media, and Pharmacy crafted the curriculum of 30 social science and humanities courses including Biomedical Ethics, Health Psychology, Medical Anthropology, The Family, Health Communication, Human Development, and Psychosocial Aspects of Loss, Death, and Grief.
"With the complexities of our changing healthcare systems, interdisciplinary approaches to solving health challenges are essential," said Molly Phillips, manager of health promotions programs and policy at the Dreyfus Health Foundation of the Rogosin Institute in New York. "We cannot improve health outcomes without fully understanding the nature, size, and causes of the problems facing our communities, and we cannot effectively understand these problems without examining them from diverse perspectives and understanding the contexts in which they exist. A minor like Society and Health at UM will give students the tools and background to approach health and healthcare as critical thinkers."
One student picked up this important point from the Society and Population Health course: "The class changed the way I think about medicine. There is so much more to health and disease than just the physiological. Everyday factors influence a person's well-being."
Team-taught courses take advantage of expertise among our faculty and allow direct interaction between interdisciplinary perspectives in the same classroom.
Introduction to the Fine Arts course is designed to develop a lifelong curiosity about the arts and their vital role in society. After exploring the elements of individual art forms, students focus on a variety of themes, including beauty, humanism, censorship, popular culture, collaboration, technology, and rituals.
"As a musician, it's easy to see the traditional role of the arts in our culture changing," said Michael Rowlett, assistant professor of music. "More and more, artists have to advocate for the value they contribute to our culture. We encourage students to think about the integral role the arts play in our culture."
Students engage with the arts on campus and in the wider world by attending events and creating collections of images, audio, or video. By commenting on each other's collections, students sharpen their ability to engage others with their observations.
"Artists work across disciplinary boundaries to create objects and experiences," said Kris Belden-Adams, assistant professor of art history. "They combine the visual arts with theatre, dance, and music, depending on the message they wish to convey. This class prepares students to become discerning viewers, perhaps even makers, of interdisciplinary arts."
Integrated Science I and II prepares nonscience majors to make informed decisions regarding science and technology in their lives by integrating a broad range of concepts in biology, chemistry, geology, and physics with a minimum use of mathematics and an emphasis on the human story and societal issues.
"For example, when we cover the topic of energy we discuss energy and society, various sources of energy, and energy in living systems and ecosystems," said Maurice Eftink, associate provost emeritus and professor emeritus of chemistry and biochemistry. "When we discuss electromagnetism, we include the basic Maxwell concepts, how this leads to the delivery of electricity to our homes, bioelectricity and ideas related to bio-magnetism (e.g., do birds use magnetic field lines of the Earth for navigation?)."
Student reviews often begin with a statement about usually not liking science, then say it was the "best class I've ever taken!" because of classroom interaction, topics, and passionate faculty.
"Science and technology play an increasingly important role in the world," said Marco Cavaglià, associate professor of physics. "An informed citizenry with basic scientific knowledge is essential for our technologically driven society. Teaching basic scientific notions and their relevance to every day experiences helps students make informed decisions based on objective data and scientific facts."
The College of Liberal Arts fosters a collaborative environment for teaching and research. We capitalize on resources by combining faculty expertise in novel ways to offer multidisciplinary academic experiences. To explore funding this important work, please contact Denson Hollis, senior director of development, at dhollis@olemiss.edu or 662.915.5092. Your help developing courses and campus programming, purchasing equipment, and funding student scholarships, internships, and research provides the needed boost to take our university to a higher level of excellence.
The African American Studies (AAS) program was established in 1970 to encourage the examination of the African American experience, to facilitate a campus atmosphere favorable to such studies, and to develop programming such as research seminars, speakers, films, art exhibitions, and conferences, like the international symposium on Richard Wright, and a variety of programming during Black History Month.
AAS majors and minors examine the history and culture of African Americans along with the social, economic, and political issues that shape the African American experience. The curriculum integrates methods and theories of the various behavioral/social sciences, humanities, and arts into a comprehensive analysis of the life, issues, culture, and history of African Americans. Faculty research of the African American experience includes media, politics, popular culture, sports, literature, finance and banking, prison literature, Harlem Renaissance, slave revolts, race relations, and critical race studies.
Interdisciplinary Programs
In 2007 the University of Mississippi became the first institution in the state to offer a BA in African American Studies and remains so today.
"The African American Studies Program is the oldest interdisciplinary academic unit in the College of Liberal Arts," said Charles Ross, professor of history and director of AAS. "Since its founding in 1970 others have followed the AAS model of developing a rigorous curriculum of courses that cross several disciplines. In 1970 the AAS curriculum consisted of 15 courses; we now offer some 60 courses."
International Studies is offered by the Croft Institute, founded in 1997 by a gift from the Joseph C. Bancroft Charitable and Educational Fund. Students select a regional concentration and related foreign language from East Asia, Europe, Latin America, or the Middle East, with a thematic concentration from Global Economics and Business, International Governance and Politics, or Social and Cultural Identity.
International Studies supports a university goal of "bringing the world to Mississippi and Mississippi to the world" through campus programming, and the study abroad requirement, a period of intense personal and intellectual growth that sets the stage for the senior thesis. Award-winning 2016 thesis projects include Zach Cookston's work on Google in China and Erica McGraw's investigation of domestic terrorism in Western Europe.
"The Croft Institute encourages students to look around the world, identify their passion, and follow through with study abroad and a strong thesis program," said Joe Bell, who is studying labor and agricultural policy and the globalization of food systems in the US and Latin America.
"It is a truly remarkable learning experience."Katie Wright (2016) agreed with the transformative nature of her Croft education. "In shaping us to be global citizens, Croft gives students a respect for diversity and an understanding of how countries work socially, culturally, economically, and politically. The major empowers students to make a positive difference in the world."
Since 1977, the Center for the Study of Southern Culture (CSSC) has stood at multiple crossroads of Southern cultural life. Faculty research ranges from the Global South, blues to religion to tourism to immigration to literature to activism to foodways. The Center offers both a BA and MA in Southern Studies.
CSSC keeps up with scholarship as it changes, addresses questions of the South as the region changes, and always looks for new ways to connect scholarship and audiences outside academia. The Center organizes multiple conferences, lectures, and publications, including the 24–volume New Encyclopedia of Southern Culture, forthcoming Mississippi Encyclopedia, Living Blues magazine, the Study the South online journal, and the Southern Foodways Alliance (SFA) quarterly, Gravy.
"The SFA oral histories, documentary films, podcasts, and publications opened up all kinds of issues such as labor, health, globalization, race, and tradition to large and thoughtful audiences," said Ted Ownby, professor of history and director of the CSSC. "Likewise, we work with oral history, documentary photography, and, through the Southern Documentary Project and SFA, documentary film. In a world in which everyone's phone is also a recording device, documentary skills have become a new kind of literacy."
Interdisciplinary Minors
Students interested in China, Japan, and Korea pursue the East Asian Studies minor offered by the Croft Institute and learn to communicate effectively in an East Asian language. Supported by a Korea Foundation grant for a faculty hire, the current recipient, Shine Choi, links her research on North Korea, the Global South, and postcolonial theory with UM's Southern Studies and race relations research.
Humanities, natural, and social science faculty teaching with the Environmental Studies minor encourage students to bring ideas to practice through internships, study abroad, and on campus. Neal McMillin (BA economics and Southern Studies '14) studied in Scotland for a thesis on the community and environmental impact of wave and tidal energy. After a Mississippi River system course, he pursued a master's degree in water policy and is a 2017 Knauss Fellow, the premier ocean policy experience for US graduate students.
The Cinema minor encourages students to analyze motion pictures within artistic, cultural, historical, and political contexts, as well as provides experience with cinema production. Recent alumni Jordan Berger, Gavin Fields, Houston Settle, and Daniel Russell created Deer Run Media production company in Chattanooga and have won awards at the UM Cinema Competition, Oxford Film Festival, and Orlando Fringe Festival. Berger's short film, The Surface, was an official selection at the 2014 European Independent Film Festival in Paris.
Students of Neuroscience come to understand the neural underpinnings of behavior through coursework and participation in faculty research labs. One neuroscience scholarship recipient—James Markos, a student of biological science, biochemistry, and public policy leadership—won the Neuroscience Research Showcase for his study of the Effects of Cannabidiol on Morphine Conditioned Place Preference in Mice with faculty in psychology and the School of Pharmacy.
Students in the Medieval Studies minor learn that "the Middle Ages" comprises a wide variety of cultures, artistic trends, literatures, languages, philosophies, and religious practices. UM medievalists sponsor events, essay prizes, and reading groups. This spring a lecture series commemorated the 750th birthday of Italian writer Dante Alighieri (1265–1321), "Modern Dante: The Humanities, the Academy, and the Public in the 21st Century," cosponsored by the Mississippi Humanities Council.
The Sarah Isom Center for Women and Gender Studies, established in 1981, offers the Gender Studies minor to help students understand how and why notions of "masculinity" and "femininity" have changed at different times and cultures. Students may choose an emphasis on sexuality or the graduate certificate. UM opened its doors to women in 1882, with Sarah Isom as the first female faculty member in 1885 (in elocution) and the first female faculty member at a co-educational institution of higher learning in the Southeast. The Sarah Isom Center has 70+ affiliated faculty today.