Physics
What does it mean to major in physics?
Physics is the study of the fundamental laws of nature underlying the interaction of matter and energy.  It is the study of the fundamental laws of nature that govern both macroscopic and microscopic phenomena, and leads to ideas for development of new technologies and solutions to problems.
Students may choose the Bachelor of Arts or the Bachelor of Science in Physics.  The BA degree is ideal for pre-med and pre-professional students with a high success rate of acceptance into such programs. The BS degree is more rigorous providing training for graduate school in physics and related fields.
Physics majors obtain a broad understanding of the physical laws of nature, and develop excellent skills in critical thinking, problem solving, and research. A degree in physics provides great flexibility allowing the possibility of employment in a wide variety of areas and entry to various fields of graduate study.
The fact sheet provides a summary of the major, information about the program, and our alumni.  The degree sheet for the BA degree  and the degree sheet for the BS degree give the specific requirements and sample 4-year curriculum plans.
Minor in Physics?
Physics courses are required for many STEM degrees on campus. Therefore, earning the physics minor provides an even stronger foundation in the physical laws of nature needed for many educational and career paths.
A minor consists of 18 credit hours in physics, which must include the Phys 211, 212, 221, 222 sequence or the 213, 214, 223, 224 sequence, and at least 10 credit hours in physics courses at the 300 level or above, with the exclusion of Phys 303, 461, 463, and 464.
Why is UM a good place to study physics?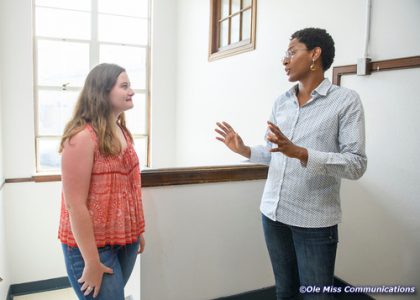 The faculty have areas of expertise in atmospheric physics, gravitational physics, condensed matter physics, physical acoustics, and experimental and theoretical high energy physics.  Physics majors have the opportunity to become involved in projects with faculty doing cutting edge research, receiving both personalized attention and participating in some of the most exciting developments in the discipline.
The acoustics program is housed in the Jamie Whitten National Center for Physical Acoustics which has the technical and support facilities of a world-class research program, including a cleanroom, a darkroom, a high-bay laboratory, an anechoic chamber, and a large open bay with subsonic and supersonic wind tunnels.
The Lewis Hall Research Wing includes two parallel-computing farms. One farm consists of 68 DEC stations with associated mass storage and switching hardware and is used for reconstructions of elementary particle collisions. The LINUX farm is used for Muon Collider simulations.
Faculty Profile
Dr. Kevin Beach, Associate Professor of Physics, is an MIT-trained physicist and a former Fellow of the Alexander von Humboldt Foundation. Condensed matter physics is his primary area of research, and his work straddles the line between theory and numerics. He joined the Department of Physics and Astronomy at the University of Mississippi in August 2014. He previously held an academic appointment at the University of Alberta.
Dr. Beach is a condensed matter theorist with a focus on computational many-body physics. His research is primarily in the areas of frustrated magnetism and heavy fermion systems. In recent years, he has also collaborated with experimental colleagues on projects related to nanomechanical systems, protein folding, and nanoscale device physics.
Why study physics at UM?  "UM is one of the best research universities in the country.  Our faculty are internationally recognized experts in astrophysics, gravitational and high-energy physics, physical acoustics, condensed matter and atmospheric physics. UM students have the opportunity to learn first-hand from these worldwide science leaders while participating in unique scientific endeavors at the edge of human knowledge through far-ranging student projects."
What can physics majors do after graduation?
A liberal arts education empowers and prepares students to deal with complexity and change through a broad knowledge of the world.  They gain key skills in communication, problem-solving, and working with a diverse group of people.  Related careers in physics include research & development, quality assurance, systems safety, engineering, education, medicine, business, military, energy resources, and patent law.
Our undergraduate physics alumni are working in many sectors of the economy, with the top six sectors shown in the infographic to the right. The largest groups are healthcare, higher education, and STEM companies such as IT, engineering, energy, manufacturing, and science firms.
Alumna Profile
Chioma Ude
mgba (BA physics, with minors in chemistry, mathematics '12)
"I fell in love with physics in high school. I had an amazing teacher who helped me see physics applied my love for math to solve real world situations. I loved the challenge and mental stimulation that came with studying physics. It is a scientific field that is a combination of chemistry, mathematics, and applied science. It has so many real world applications and I knew as a physics major my future would be boundless."
At UM, Udemgba was an honors student, president of Alpha Kappa Alpha sorority, president of Increasing Minority Access to Graduate Education (IMAGE), a tutor for student athletes, and a physics teaching assistant.  She had numerous research experiences: Princeton Plasma Physics Laboratory; pulmonary and critical care medicine research at Johns Hopkins that resulted in a publication; and research with faculty at the National Center for Physical Acoustics at UM – ballistic seed projection with Dr. Richard Raspet and her honors thesis with Dr. Cecille Labuda on temperature-time profiles induced by acoustic radiation force impulse imaging ultrasound exposure.
After graduation Udemgba attended Duke University School of Medicine where she was awarded the Howard Hughes Medical Institute Medical Fellowship and researched chemo-resistant ovarian cancer.  She completed an internal medicine-pediatrics residency program (and was Chief Resident) at Tulane University, and was a Clinical Fellow at The National Institutes of Health in Washington D.C. She is now a Primary Care Physician at AllCare Family Medicine & Urgent Care in Washington D.C.
Why study physics at UM? "A degree in physics offers a great opportunity to engage in complex thought processes and problem solving. It taught me how to be an abstract thinker and to use science as a tool to unlock my full potential as a learner. It is the father of chemistry. It has so many applications in the real world, including the field of medicine and renewable energy. It prepared me well for my path in medicine and can open the door to any career you choose to pursue."
For more information
Dr. Luca Bombelli, Chair and Professor of Physics
Department of Physics and Astronomy
108 Lewis Hall
The University of Mississippi
University, MS 38677
(662) 915-7046 | physics@phy.olemiss.edu