French
What does it mean to major in French?
We train students to be global professionals with superior levels of French language skills. French majors study the language, linguistics, literature, history and culture of the Francophone world. They gain the cultural awareness and intellectual strategies necessary to successfully navigate the interconnected and multicultural world in which we live.
Over 321 million people around the world speak French. It is an official language in 29 countries.  Our students attain strong language competence in listening and reading comprehension, speaking, and writing skills as well as the cultural knowledge necessary for interacting with Francophones in professional or informal contexts.
The fact sheet provides a summary of the major, information about the program, and our alumni.  The degree sheet gives the specific requirements and a sample 4-year curriculum plan.
Minor in French?
A minor in French requires the completion of Fr 303 and 304 (Conversation and Composition I, II), and three additional French courses at the 300 level or above. A maximum of three courses for the minor may be taken through an approved study abroad program.
Why is UM a good place to study French?
The French faculty have research interests in Medieval European literature, music and culture, manuscripts and material culture, 20th century French poetry and fiction, French cultural studies, literary theory, human-nature interactions in 17th and 18th century French literature, pastoral literature, and ecocritical and ecofeminist theory.
The Department of Modern Languages maintains an active chapter of Pi Delta Phi, the national French Honor Society. It offers a number of funding opportunities to students who concentrate on foreign languages.  The Office of Study Abroad provides access to a wide range of study abroad programs, including courses led by UM faculty, such as Nineteenth-Century French Art and Civilization or the Cannes Film Festival.
The Croft Institute for International Studies' Cine World Film Series, a free international film series, brings Academy Award nominees and other award winning foreign films to campus.
Faculty Profile
Dr. Anne Quinney, Professor of French, earned her PhD from Duke University.  Her research interests include 20th and 21st century French poetry and fiction, French cultural studies, literary theory, psychoanalysis, and film.  Her current project is a book on Nobel Prize-winning author Albert Camus and his reception in the United States beginning with the first translations of his work in the 1950s.
Why study French at UM? "We offer a range of courses to suit everyone's interests from literature and music to gastronomy to business French. Our typical class sizes range between 7-14 students so that we can optimize discussion and student interaction in French."
What can UM French majors do after graduation?
A liberal arts education empowers and prepares students to deal with complexity and change through a broad knowledge of the world.  They gain key skills in communication, problem-solving, and working with a diverse group of people.  Related careers to French include education, international business & banking, tourism, journalism, law translation, foreign service, cultural affairs, military service, and health care.
Our undergraduate French majors work in many sectors of the economy, with the top six sectors shown in the infographic to the right. The largest groups are working in higher education, business and finance firms, and K-12 education.
Alumna Profile
Christine Day (BA French, international studies '06)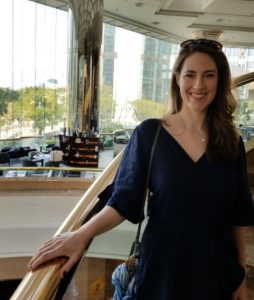 "I started learning French in high school because I loved the language/history and had a great teacher from France who really inspired me to learn."
Christine studied abroad in Montpellier, France, and wrote a senior thesis on the topic of how many French were against further integration in the European Union in the early 90s.
"Ironically the French are now a leader in the EU but a lot of the reasons the French were against further integration in the European Union are relevant for why the UK is currently trying to exit the EU.  So one could argue the lessons from the past have not been fully appreciated!"
Christine's path since graduation has included International Marketing Assistant for Pfizer European Marketing in Paris, France; Global Account Director TBWA\WorldHealth for TBWA International Communications in Paris, France; Strategic Business Development Manager for TRM-Oncology in Paris, France; Senior Director, Global Educational Services for prIME Oncology Medical Educational Services in The Hague, Netherlands.  She is currently the Director of Medical Education Oncology/Hematology for WEBMD- London, UK.
Why study French at UM?  "Learning a foreign language has been an amazing experience for me, it opens windows to different cultures and perspectives and opens doors to different career paths.  French is a beautiful language and France is a beautiful country.  It has always benefited me in my life and career to be able to speak it, right down to the day to day dealings I have in my job with my francophone clients all over the world such as Canada, France, and even North Africa where it is often a 2nd language."
For more information
Dr. Dan O'Sullivan, Chair and Professor of French
Department of Modern Languages
E-203 Bondurant Hall
University, MS 38677
(662) 915-7712 | dosulliv@olemiss.edu