English
What does it mean to major in English?
To study English is to explore the power of texts in expressing human cultures and imaginations and to hone foundational skills in argumentation and analysis through writing and research. English teaches essential skills in reading, interpreting, researching, critical thinking, and making clear written and multimedia arguments about complex and expressive texts. These skills can be used in almost any professional setting and are pivotal for meaningful participation in a thriving economy and community.  
There are optional emphases in creative writing; editing, writing & publishing; and literature, justice & society.
The fact sheet provides a summary of the major, information about the program, and our alumni.  The degree sheet gives the specific requirements and a sample 4-year curriculum plan.
Minor in English?
A minor in English not only enriches students' appreciation of literature and engages them in cultural debate but also helps develop crucial skills in analytical thinking and clear, persuasive expression both in speech and in writing. An English minor is an ideal gateway for careers that emphasize communication and critical thinking, including law, business, journalism, public service, and education.
A minor in English consists of six English courses, no more than 2 of which can be literature survey courses at the 200-level (Eng 220,221, 222, 223, 224, 225, or 226). Students must complete at least three courses at the 300 level or above.
Why is UM a good place to major in English?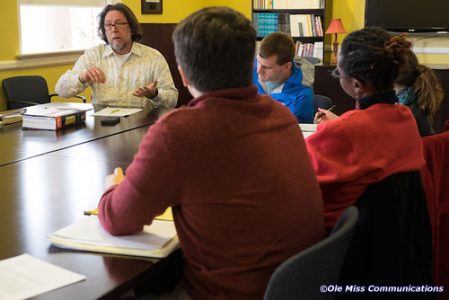 English faculty include many outstanding scholars, including Karen Raber, current Executive Director of the Shakespeare Association of America; Adam Gussow, whose book Beyond the Crossroads: The Devil and the Blues Tradition was awarded the John G. Cawelti Award; Patrick Alexander, co-founder of the UM Prison-to-College Pipeline Program; and Jay Watson, Howry Professor of Faulkner Studies. Our renowned creative writing faculty include Mississippi's Poet Laureate Beth Ann Fennelly (Heating & Cooling), Guggenheim Fellow Aimee Nezhukumatathil (Oceanic), Edgar award recipient Derrick Harriell (Ropes), and LA Times Book Prize recipient Tom Franklin (Crooked Letter, Crooked Letter).
English majors encounter novels, poems, stories, epics, plays, films, autobiographies and more. Moving from introductory surveys to advanced research seminars, students learn to navigate the stimulating and diverse world of English-language literatures. They may also select an emphasis in creative writing where they develop their own voice.
Oxford is a town for book lovers. Home in the past to authors from William Faulkner to John Grisham, it is a notable and energizing place to study literature. In the Department of English, we see ourselves as heirs to the rich literary tradition that permeates the atmosphere here in Oxford and as educators for a transformative future.
Our campus hosts the international Faulkner and Yoknapatawpha Conference, the Conference for the Book, the Southern Writers/Southern Writing Conference.
Many literary readings take place on campus but also at Square Books, one of the country's best-known independent bookstores, and during Thacker Mountain Radio Hour.
Our upper-division classes are small, and students get to know our top-notch faculty members as teachers and mentors who can provide substantive feedback and references for jobs and post-college applications.
The annual John and Renee Grisham Fellowship and the Summer Poet in Residence program bring renowned visiting creative writers to campus to join our nationally acclaimed faculty.
Study abroad classes permit students to learn about literature in distant places like Costa Rica, Scotland, and the Caribbean.
Our creative writing and academic essay contests provide scholarships and allow students to showcase their talents outside as well as in the classroom. Our students have been recognized in the Southern Literary Festival, Mississippi Review competition, & the UM Cinema Competition. They are published in the UM undergraduate literary magazine, Hyperbole, and work for various student media outlets.
 
Faculty Profile
Beth Ann Fennelly, Professor of English and Mississippi's Poet Laureate, received her MFA from the University of Arkansas and completed a Diane Middlebrook Fellowship at the University of Wisconsin. Besides teaching awards at UM, she has received grants from the National Endowment for the Arts, the United States Artists, and a Fulbright to Brazil. Fennelly's work has won a Pushcart Prize and three times been included in The Best American Poetry Series. Her book, Heating & Cooling: 52 Micro-Memoirs (W. W. Norton), was named an Atlanta Journal Constitution Best Book of 2017 and a Goodreaders Favorite for 2017.
Why study English at UM?  "I can't imagine a better place for a young writer. It's not just that we have rich history, with the ghost of Faulkner still roaming the streets. It's that the present is so rich and diverse. Students can attend readings on campus or at Square Books, attend the student-run reading series, Broken English, or share their work the Rebel Writers Club. This is a place where literature is currency, where books matter, and the energy is palpable and welcoming."
What can English majors do after graduation?
A liberal arts education empowers and prepares students to deal with complexity and change through a broad knowledge of the world.  They gain key skills in communication, problem-solving, and working with a diverse group of people. English majors go everywhere English can go. In this new information age, analyzing and interpreting complex information for a specific audience is a crucial skill. English is a relevant and adaptable undergraduate degree that leads to numerous career paths, including journalism, education, marketing and social media, professional and creative writing, information technology and science, editing and publishing, medicine, public relations, law, communications, politics,  advertising, activism, and more.
Our undergraduate Enlish alumni work in all economic sectors, with the six largest percentages shown in the infographic above. The top sectors are business and finance firms, higher education, and law.
Alumna Profile
Julie Dhossche (BA biochemistry, English '11)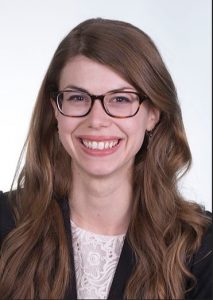 "I loved my English classes in high school. They taught me to appreciate the English language and how it can convey ideas and truths about humanity. The teachers were so passionate about language and meaning. I saw the beauty of language, from the harmony in Shakespeare's sonnets to the intricacy of John Donne's metaphors."
Julie, an honors student, was a teaching assistant in organic chemistry and spent a summer conducting research at the UM Medical Center on the effects of alcohol intake on brain receptor development in rat fetuses, which was published in a medical journal. She volunteered in the local community and during a medical missionary trip to Bolivia. Julie participated in the Spanish Club and was inducted into Phi Beta Kappa and Phi Kappa Phi. She turned back to her love of English for her honors thesis where she examined songs in the plays of Shakespeare, exploring the meaning of song and music in Renaissance culture.
After graduation she earned her medical degree from the UM Medical Center, completed an internship in pediatrics at Children's Mercy Hospital in Kansas City, Missouri, and a residency and fellowship in dermatology at Oregon Health & Science University. She is currently an Assistant Professor of Dermatology, School of Medicine at OHSU.
Why study English at UM? "The study of English is multifaceted–you're learning literature, language, culture, art, philosophy–and you're honing your skills in speaking and writing. The ability to communicate is so valuable in life, and what better place to learn this than in Oxford, MS? The English Department is stellar, and there is something about this place that inspires development and creativity.
I never did study abroad in the traditional sense, but my English classes definitely provided me with an opportunity to travel. I spent four years traveling through time and space and humanity with writers, professors and fellow students in our exploration of the English language. I stepped in and out [of] books and stories and essays, each time gaining an appreciation of how language is manipulated to create meaningful expression and convey ideas and truths about ourselves and our world. People may ask, 'Why a B.A. in English?' I tell them I like to travel."
For more information
Dr. Caroline Wigginton, Chair and Associate Professor of English
Department of English
C128 Bondurant Hall
The University of Mississippi
University, MS 38677
(662) 915-7439 | engl@olemiss.edu