Chinese
What does it mean to major in Chinese?
We train students to be global professionals with superior levels of Chinese language skills.
Chinese is spoken by over one billion people, nearly a quarter of the world's population. Our students attain strong language competence in listening and reading comprehension, speaking, and writing skills as well as the cultural knowledge necessary for interacting with Chinese-speaking people in professional or informal contexts.
Students can also apply for the Chinese Language Flagship Program, which provides scholarship funds and additional study abroad opportunities.
The fact sheet provides a summary of the major, information about the program, and our alumni.  The degree sheet gives the specific requirements and a sample 4-year curriculum plan.
Minor in Chinese?
A minor in Chinese requires the completion of 15 credit hours of Chinese at the 300 level or above, providing a solid foundational understanding of the language. A maximum of 9 credits for the minor may be taken through an approved study abroad program.
Why is UM a good place to study Chinese?
Students are not only taught by our dedicated Chinese faculty but also by teaching assistants and domain mentors who provide one-on-one tutoring and help students acquire Chinese for their specific domains.
The Chinese Flagship Language Program, sponsored by the National Security Education Program, is one of 13 federally funded critical language programs in the nation. Its graduates typically achieve an advanced or even superior level of Chinese language proficiency and cultural competence – both of which are essential for professional success. The program provides financial aid for on-campus intensive summer courses as well as summer study abroad in Taiwan.
Chinese majors who are in the Flagship program have a wide variety of outside-the-classroom opportunities for language learning.
For many years, the Department of Modern Languages has offered a month-long summer Summer Language Institute program in Chinese for high school students.
To boost Chinese proficiency and provide valuable in-country experience, the Chinese Language Flagship Program has study abroad opportunities in Taiwan built into the curriculum and funded by the federal grant.
The 5th year capstone year for the flagship students provides a fall semester in Taiwan, China, or the Defense Language Institute in Monterey, CA, as direct enrollment at a university and the spring semester is a professional internship. The domestic option for the capstone in Monterey, CA, with courses offered at the Middlebury Institute of International Studies. This option, designed mainly for students pursuing careers in national security, is particularly attractive to our Chinese Flagship students who are also in ROTC, and/or our Center for Intelligence & Security Studies. The domestic capstone provides internships in roles related to national defense.
What can Chinese majors do after graduation?
A liberal arts education empowers and prepares students to deal with complexity and change through a broad knowledge of the world.  They gain key skills in communication, problem-solving, and working with a diverse group of people.
People who fluently speak a foreign language have better job opportunities. Related careers to Chinese include education, international business & banking, tourism, journalism, law, translation, foreign service, cultural affairs, military service, and health care.
Our Chinese alumni are working in many sectors of the economy, with the top six economic sectors shown in this infographic. The most common are alumni working in business and finance firms, STEM companies (IT, energy, manufacturing, and social science firms such as policy and intelligence companies), government, and military.
Alum Profile
Anthony Yuen (BA international studies, Chinese '08)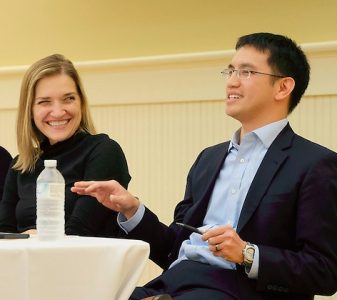 Drawn to the Chinese Language Flagship Program, the Croft Institute of International Studies, and the Sally McDonnell Barksdale Honors College, Anthony found at UM a unique opportunity to pursue multiple intellectual passions.  With the support of the Chinese Language Flagship Program, Anthony spent a year and a half in China honing his proficiency in Mandarin and developing an expertise in China's political, economic, and social issues. He spent his capstone year taking graduate-level coursework in foreign policy and politics – taught completely in Chinese – at Nanjing University and interned with a Chinese intellectual property law firm in Shanghai.
His experiences in China and his Mandarin proficiency not only helped differentiate Anthony as an applicant for both graduate studies and employment opportunities, but also formed the foundation for his career. After graduation, he moved to Thailand to study Thai, volunteer, and teach English. He later earned a MA in international affairs at Georgetown University's School of Foreign Service. After an internship with the U.S. Department of Treasury's East Asia Office and a year with the U.S. Department of State's Bureau of East Asian and Pacific Affairs, Anthony joined PricewaterhouseCoopers' (PwC) Washington, D.C.-based Global Intelligence, Anti-Corruption and Strategic Threat Management practice group. At PwC, Anthony led a China and East Asia-focused research and investigative team and helped establish similar teams throughout Asia. Drawing from his experiences consulting for global companies and government agencies, Anthony joined the Clinton Health Access Initiative's malaria elimination financing team for Southern Africa in 2018.
Why study Chinese at UM?  "The program is well designed to pair both intensive Chinese language training in the classroom and immersive learning experiences in China with another academic major. This interdisciplinary approach aptly reflects the demands of today's job market, where many employers appreciate Chinese proficiency as a critically valuable skill but also expect complementary fluency in a relevant field of study."
For more information
Dr. Zhini Zeng, Co-Director of Chinese Language Flagship Program
Croft 215
The University of Mississippi
University, MS 38677
(662) 915-6793 | zzeng@olemiss.edu
Mr. Zach Adamz, UM Chinese Flagship Program Manager
106 Vardaman
The University of Mississippi
University, MS 38677
(662) 915-7298 | chinese@olemiss.edu