Chemistry
What does it mean to major in chemistry?
Chemistry investigates the composition, properties, and reactions of all substances. Many advances in the production of medicine, food, technology, and energy have been made possible through chemistry research. Because chemistry is a physical science, chemistry students will develop the math background needed to develop strong problem-solving skills.
You can choose between the Bachelor of Arts in Chemistry and the Bachelor of Science in Chemistry with optional emphases in Biochemistry Environmental Chemistry, or Physical Chemistry. The BA degree allows greater compatibility with other areas of study while the more specialized BS degree requires more mathematics and science. The BS degree is accredited by the American Chemical Society (ACS).
Chemistry majors are introduced to the electronic theory of matter, organic and inorganic chemical reactions, quantum and statistical mechanics, thermodynamics, chemical kinetics, the kinetic theory of gases, and the properties of solutions. They receive training in the theory and use of state-of-the-art chemical instrumentation, the principles of data collection and analyses, and the techniques used for the professional presentation of scientific results.
The fact sheet provides a summary of the major, information about the program, and our alumni.  The degree sheet for the BA degree and the degree sheet for the BS degree give the specific requirements and a sample 4-year curriculum plan.
Minor in chemistry?
A minor in chemistry is a great combination with many other majors for those interested in entering a healthcare field. Students complete 19-20 credit hours, including the introductory sequence (Chem 105, 106, 115, 116), organic chemistry sequence (Chem 221, 222, 225, 226); and 3-4 credit hours at the 300 or higher level or Phcl 343.
Why is UM a good place to study chemistry?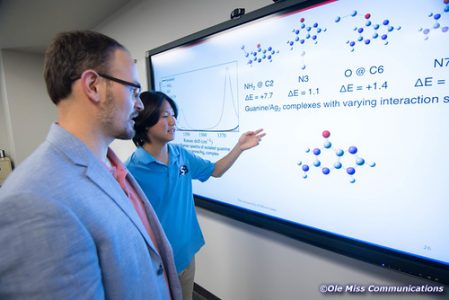 The faculty members take a keen interest in the success of their students. They provide expert career advising and plenty of individual attention.
Students may become involved in research with faculty members as early as their freshman year, and many opportunities exist for students to become involved in funded summer research projects. It is not unusual for a biochemistry major to co-author a scientific article with a professor before graduating from UM. A number of students from the Department of Chemistry & Biochemistry have received Goldwater Scholarships, a prestigious national award for undergraduates who plan a career in science research.
Finally, the Student Affiliates of the American Chemical Society provides a social setting for the exchange of ideas among students in the chemical sciences, arrange field trips to industry sites, and organize transportation to regional meetings of the American Chemical Society.
What can chemistry majors do after graduation?
A liberal arts education empowers and prepares students to deal with complexity and change through a broad knowledge of the world. They gain key skills in communication, problem-solving, and working with a diverse group of people. Related careers in chemistry include chemical and materials research, medical research, pharmacology, toxicology, health care, pharmacy, law, policy, and environmental areas. The American Chemical Society website has information to explore chemistry careers.
Our undergraduate chemistry alumni are working in many different sectors of the economy, with the largest 6 economic sectors of their employers shown in the infographic. The largest group is working in healthcare, followed by higher education.
Alum Profile
Jacob Graham (BS chemistry '09)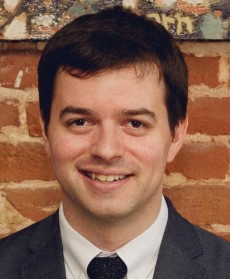 "Growing up I remember watching Bill Nye the Science Guy and various PBS shows like NOVA and this is where my initial interest in science began. I always felt more interested in and comfortable with chemistry and physics than in biology (dissecting animals) so I steered towards the physical sciences. I had an especially enthusiastic and talented high school chemistry teacher and once I started learning about atomic and molecular orbitals I was hooked."
Jacob excelled at physical chemistry classes and was asked to join Dr. Hammer's lab. He was immediately given the challenge of designing and building a time-of-flight mass spectrometer with the eventual goal of using it to perform infrared spectroscopy on mass selected molecules and clusters. "Alongside all of the practical knowledge involving vacuum systems, lasers, and electronics that I picked up during the project, Dr. Hammer helped me improve my scientific communication ability, project management skills, and even my resilience through failures."
After graduation, Jacob earned his PhD in chemistry at Johns Hopkins University. As a postdoc at the University of Chicago, Jacob expanded his expertise to include interfacial physics by studying molecular beam-surface interactions. He is currently a Space Research Scientist at the NASA Goddard Space Flight Center.
Why study chemistry at UM?  "The department was a very positive environment for me. I was prepared well academically and I was able to do rewarding experimental work as an undergraduate. I genuinely felt that all the faculty I interacted with cared about my future and they would always make time to talk to me about both academic and non-academic issues."
For more information
Dr. Jim Cizdziel, Acting Chair and Professor of Chemistry & Biochemistry and Coordinator of Forensic Chemistry
Department of Chemistry and Biochemistry
322 Coulter Hall
The University of Mississippi
University, MS 38677
(662) 915-7301 | chemistry@olemiss.edu