West Coast troupe renowned for blending traditional choreography with contemporary dance styles
NOVEMBER 7, 2017 BY CHRISTINA STEUBE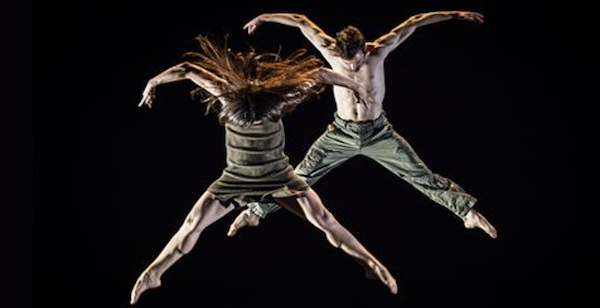 The University of Mississippi's Gertrude C. Ford Center for the Performing Arts hosts the internationally recognized dance company BodyTraffic for one performance Thursday evening (Nov. 9).
Ticket for the 7:30 p.m. show are available at the UM Box Office inside the Ford Center. They are $30 for orchestra/parterre and tier 1 box levels, $26 for mezzanine and tier 2 box levels and $22 for the balcony level. A 20 percent discount is available for UM faculty, staff and retirees when tickets are purchased at the box office.
Founded in 2007 by Lillian Barbeito and Tina Finkelman Berkett, the West Coast dance troupe of six dancers has performed for sold-out audiences in theaters and festivals around the world. BodyTraffic, renowned for innovating traditional choreography into contemporary dance styles, was named "the company of the future" by the Joyce Theater Foundation, one of Dance magazine's "25 to Watch in 2013" and "Best of Culture" by the Los Angeles Times.
"BodyTraffic is wonderful company that is a leader in the Los Angeles dance community," said Kate Meacham, Ford Center marketing director. "They are able to adapt their programs to work with different groups.
"It's very important to us to be able to bring companies like BodyTraffic to the Ford Center for more than just a performance. It's an invaluable experience for Ole Miss students and a way for members of the community to experience the arts in a more in-depth and meaningful way."
The dance company will also be on campus for two days before the performance, hosting master classes for UM students in musical theater, jazz, tap and contemporary dance. Additionally, BodyTraffic will host workshops for 21 United, a Down syndrome advocacy and awareness group based in Oxford, as well as an elementary school class from Holly Springs.
The troupe appeals to new audiences as well as dance enthusiasts with their works from choreographers including Kyle Abraham, Hofesh Shechter, Barak Marshall, Richard Siegal and Victor Quijada.
For more information about tickets and upcoming performances, visit http://fordcenter.org/.