A GIFT TO REFLECT HER PASSIONS
December 16, 2016  By Bill Dabney
Family and friends of the late Anna (Ann) McDonald Berryhill of Pontotoc, Mississippi, want to honor her memory by helping generations of future University of Mississippi students pursue their interests in music and education.
A 1951 graduate of the UM College of Liberal Arts, Berryhill returned to her hometown to teach, sharing for two decades her lifelong love of learning, specifically in the disciplines of music and history.
"Her students were like her children," reflects Mary McDonald, the daughter of Berryhill's brother, Robert McDonald, Jr. "She enjoyed history and kept boxes and boxes of family mementos and stacks of letters and post cards from her former students. Even years after she quit teaching, she corresponded with many of them on a regular basis. Up until her death she had several former students visit her in the nursing home."
Representing her passions, the Anna McDonald Berryhill Ole Miss First Scholarship Endowment will give full-time entering freshmen from Pontotoc County financial assistance to supplement eight semesters of tuition with first preference going to students majoring in music or education.
The Ole Miss First Scholarship Program continues to provide mentoring and leadership development in conjunction with tuition assistance. Entering freshmen are selected to receive a four-year scholarship of $4,500 per year based on their high school record of academic excellence, leadership and commitment to service. Additionally, some scholarships are based on financial need, major or geographical area.
"The Ole Miss First program helps students reach their full potential as they grow into accomplished members of the community, both at Ole Miss and in the world," said Rosie McDavid, program coordinator. "The program would not be possible without the continued support of those who understand the program's mission to assist outstanding young people as they prepare for the future."
Buddy Montgomery, president of First Choice Bank in Pontotoc, said the Ole Miss First program is perfectly aligned with his longtime friend's personality.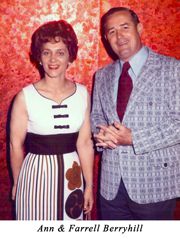 "Mrs. Berryhill possessed the highest of moral character traits and she expected others to possess nothing less than what she expected of herself," he said. "She would encourage and advise others, especially the younger generations, to prepare themselves by getting an education, studying diligently, being trustworthy, accountable, responsible and by working hard to pursue their dreams."
First Choice Bank, originally First National Bank of Pontotoc, was founded by Berryhill's grandfather, who served as president until 1926. In 1965, Berryhill's husband, Farrell, was named president. After his death, Mrs. Berryhill was elected to the bank's board of directors.
"She loved the bank her grandfather founded and served its customers and employees very proudly until her health failed," Montgomery said. "She was a very dedicated director and friend to all of us fellow board members and employees."
Berryhill also deeply loved her community, showing her support by committing both her time and resources. She was active in the Pontotoc Historical Society and was a driving factor in turning the local post office into a museum. She also was president of the Pontotoc Hospital Auxiliary, a member of the Pontotoc Music Club and a representative of Pontotoc County for the Tupelo Community Concert Association.
Additionally, Berryhill was a member of the Daughters of the American Revolution and a life-long member of the First Presbyterian Church.
"Ann and Farrell had no children, so the bank, her students and her church were her life," nephew Robert McDonald, III said. "She loved music and played the organ at her church for many, many years."
At Ole Miss, Berryhill was an active member of Delta Gamma sorority, serving as treasurer her senior year. She remained active as an advisor to the sorority after graduation, enjoying another opportunity to mentor young people toward success.
Individuals and organizations can make gifts to the Anna McDonald Berryhill Ole Miss First Scholarship Endowment by sending a check with the fund noted in the memo line to the University of Mississippi Foundation, 406 University Ave., Oxford, Miss. 38655; or by visiting www.umfoundation.com/makeagift. For more information about Ole Miss First, contact Rosie McDavid at 662-915-3895 or rosie@olemiss.edu.