Only a few weeks remain before more than 5,000 Ole Miss students flood the roads and residence halls on campus for the annual fall move in beginning Monday, Aug. 13.
With so many Ole Miss students and their families on campus, move in is a great opportunity for members of the Lafayette-Oxford-University community to get involved and welcome new students to campus, said Jennifer McClure, assistant director for marketing for the UM Department of Student Housing.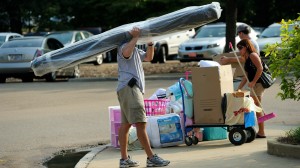 "We think this is a great way to bring the community together in support of our freshmen and campus residents," McClure said.
All students, faculty, staff and Oxford/Lafayette County community members are invited to volunteer for Groovin' at Move In on Friday, Aug. 17 and participate in what is expected to be the largest move-in day in the university's history. Volunteering will be concentrated in the Women's Terrace (Brown, Deaton, Hefley and Stewart halls), and McClure said the most help is needed from 7:30 a.m. to noon. Free T-shirts and water will be provided to all volunteers.
"It shows just how supportive this community is for university students, and the students get really excited about [it]," McClure said, adding that volunteering for move in has become a tradition for many people in the community.
Leslie Banahan, assistant vice chancellor for student affairs, said she hopes fellow UM faculty and staff members also will feel that sense of excitement from the incoming students.
"[The volunteers] are playing an important part in this important journey in higher education," Banahan said. "Obviously, a lot of work goes into it, but seeing that enthusiasm in a freshman's eyes just makes it all worth it."
Student organizations also are invited to volunteer, and community service hours are available for groups and individuals. To volunteer, please visit https://www.olemiss.edu/depts/stu_housing/call_for_vols_2012.htm. The deadline to register is Monday, July 30. For questions regarding move in, email McClure at jlmcclur@olemiss.edu.