February 10, 2015 | by Katelyn Miller, Courtesy of The Daily Mississippian
The spring leg of the John and Renée Grisham Visiting Writers Series will kick off today with poet Keetje Kuipers. Kuipers will be reading from her book, "Keys to the Jail," then signing copies and taking questions from the audience in the Hannah-Ford Room for Writers in Bondurant Hall at 7 p.m.
The visiting writers series is hosted by the MFA Program in Creative Writing. All readings in the series are free of charge, with the exception of the Richard Ford craft classes, which are reserved for MFA students.
MFA coordinator Kieran Lyons explained that the series gives all students and Oxford residents a chance to see some of the most influential people in the world speak on campus.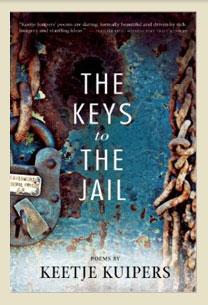 "I think it's a great feeling to see a shiny new novel or collection of poetry in Square Books and know that you saw that author speak in the same room where you might have attended class, or to take a book from your shelf and open it to see a signature from someone who has shaped our culture," Lyons said.
According to Lyons, the reading series is a long running event specific to UM. He also mentioned that John Grisham provides funding and housing for the writer in residence each year, and provides two students with fellowships that support them with three years of funding without any teaching responsibilities.
"I can't imagine what the program would look like without this support," Lyons said.
Kuipers is the first of many writers to visit the university this semester. Also coming this spring are Harrison Scott Key, David Simon, John Waters and Anne-Marie Fyfe. Last semester, visitors included Jennifer Egan, Tobias Wolff and Jack Pendarvis.
The series presents all types of writers, from novelists to screenwriters to poets. This week's speaker falls under the last title. Capers' first poetry collection, "Beautiful in the Mouth," won the 2009 A. Poulin Jr. Poetry Prize. She will be reading from her second collection, "Keys to the Jail."
"Keys to the Jail" is described as "daring, formally beautiful and driven by rich imagery and startling ideas" by Pulitzer Prize-winning poet Tracy K. Smith.
Regarding poetry, Kuipers has been previously quoted as saying, "(Poems) are beautiful, necessary attempts, the same way that standing on top of a mountain and shouting your name into the uninhabited air is an attempt — we must declare ourselves over and over again, and still never really find a way to understand how we exist."
The next event of the Visiting Writers series will be on Feb. 18, also at 7 p.m. David Mills will perform his one-man show, "David Mills: an Evening with Langston Hughes" in Meek Auditorium. This event will also be open to the public and free of charge.