April 16, 2014
Derrick Harriell, assistant professor of English and African-American studies at the University of Mississippi, has the won the Mississippi Institute of Arts and Letters 2014 Poetry Award for his new collection of poems, Ropes.
Founded in 1978, MIAL aims to recognize the elite in fiction, nonfiction, visual art, musical composition, photography and poetry. The award is coveted and highly competitive.
"Receiving the news that my collection of poems Ropes won the MIAL Award was gratifying in so many ways," Harriell said. "I'm happy contributing to the high standard set by our English department and M.F.A. program. Having only been in Oxford for a year-and-a-half, I'm pleased to be embraced both personally and professionally."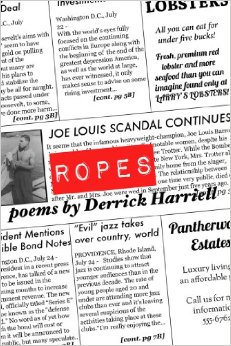 In 2010, Harriell composed his first collection of poems, Cotton. For the follow-up, Ropes, he focused on the lives of black boxers in America.
Harriell was born and raised in Milwaukee. He has a Ph.D. in English from University of Wisconsin at Milwaukee and a M.F.A in Creative Writing from Chicago State University. He has worked as an assistant poetry editor for Third World Press and Cream City Review and has taught countless writing workshops for students of all ages. A two-time Pushcart Prize nominee, his work has appeared in numerous literary journals and anthologies.
The award reflects well on the university, said Ivo Kamps, professor and chair of the UM Department of English.
"This is quite an honor for Derrick, for the department and the university," Kamps said. "(Harriell) is relatively new to the university and the state of Mississippi, but he is already making a significant impact on our literary culture and our students. We are pleased and fortunate to have him on our faculty."