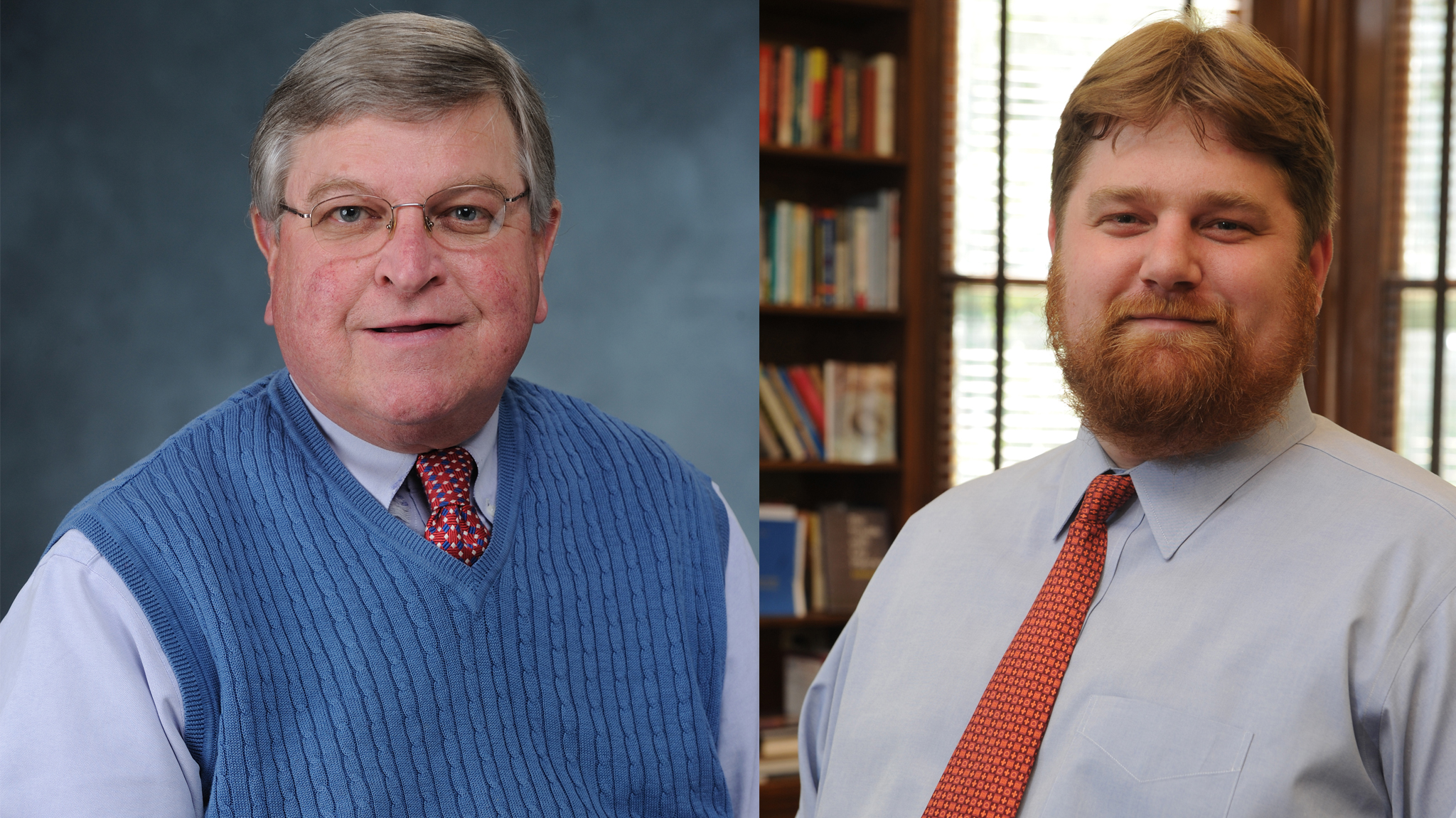 Dewey Knight (left) and Eric T. Weber have been selected as this year's Frist Student Service Award honorees in recognition of their exceptional service to students.
Each day, University of Mississippi students are affected by the words and actions of faculty and staff members who extend their work beyond classrooms, labs and office space.
Two of them – Eric T. Weber, assistant professor of public policy leadership, and Dewey Knight, associate director of financial aid – have been selected as this year's Frist Student Service Award honorees in recognition of their exceptional service to students.
They were chosen from among dozens of nominees, submitted by students, alumni, faculty and staff. A chancellor's committee weighed all the nominations and made the picks.
"Ole Miss is a service-oriented, caring community, and to be recognized by students, faculty and staff as a leader in service affirms the extraordinary level of commitment of the Frist recipients," Chancellor Dan Jones said.
The awards, one for faculty and one for staff, were established with a gift from Dr. Thomas F. Frist Sr. of Nashville, a 1930 UM graduate. This is the 18th year for the awards.
Weber and Knight each receive $1,000 and a plaque, and are to be recognized Saturday (May 12) at UM's main commencement ceremony. Both recipients expressed surprise upon learning that they had been chosen for the recognition.
"I felt very surprised and grateful. It has been a busy year, mostly with my head down to focus on this or that project," Weber said. "So, an honor like the Frist Award took me aback and made me pick my head up to think about the big picture. The chancellor has highlighted service as a key part of the university's mission and the Frist Award concerns service to students. In that light, the honor is deeply meaningful and gratifying."
Likewise, Knight said, "When Chancellor Jones called me about my selection as the Frist Student Service Award recipient from the staff, I was very surprised and honored, but, more than anything, I was humbled.  To be recognized by the university for serving her students is truly most significant as Ole Miss faculty and staff are well-known for providing personal attention to the needs of our students and their families."
Weber joined the public policy leadership department faculty in 2007, after teaching in graduate school two years at Ohio University and three years at Southern Illinois University. He holds a bachelor's degree from Vanderbilt University, a master's from Ohio University and a doctorate from Southern Illinois University. Weber is executive director of the Society of Philosophers in America and chair of the American Philosophical Association's Committee on Public Philosophy.
One nomination for Weber, from a graduate student, stated in part: "Somehow, between teaching, writing books, writing articles for the Clarion-Ledger or the Tehran Times, leading efforts to improve access for disabled individuals on campus, speaking at conferences and spending time with his wife and disabled young daughter, he has time for his students. And I don't mean office hours. I feel like I see him outside the Lott building more than in it. And he's in there a lot."
In another nomination, a former student wrote: "In his PPL 212 class that focuses on public speaking, Dr. Weber films every speech and invites students to view it with him later in his office while he critiques it. We text, tweet, G-mail chat and Facebook each other. Can't say that for any other professors."
Knight has been employed at UM financial aid since 1997. He was named student loan manager  before being promoted to his present post in 2003. The UM alumnus holds a bachelor's degree  in business administration, master's in higher education/student personnel and is completing a doctoral degree in higher education.
One nomination for Knight, from an alumnus, stated: "Dewey has done an exceptional job partnering goals of EDHE 105 (the First Year Experience course he designed) with the Center for Writing and Rhetoric to maximize collaboration and support for our students when they are developing reading, writing and critical thinking skills. As an instructor, financial aid director and campus leader, Dewey is exemplary."