BY MICHAEL NEWSOM
November 18, 2013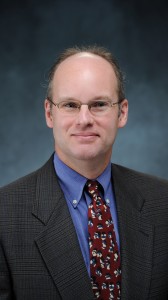 University of Mississippi English professor Jay Watson has won a rare honorable mention for the Holman Award for his latest book, "Reading for the Body: The Recalcitrant Materiality of Southern Fiction, 1893-1985."

The award, which is named for esteemed Southern literature scholar C. Hugh Holman, who taught at the University of North Carolina, is given annually by the Society for the Study of Southern Literature. It recognizes the best book of literary scholarship or criticism in the field of Southern literature for works published the previous year. Watson's book earned an honorable mention, which has only happened twice since the award was created in 1986. 
Watson, who serves as UM's Howry Professor of Faulkner Studies and also director of UM's Faulkner and Yoknapatawpha Conference, said even receiving an honorable mention is "incredibly gratifying."
"This is what we work for as scholars: to have our research and writing recognized as valuable and path-breaking by our peers in the field," Watson said. "It's really the supreme compliment and I'm thrilled and energized – and a little shocked – to receive it."
His book (University of Georgia Press, 2012) argues studies of Southern literature have in many cases been "overidealized," and also dominated by intellectual history for too long, according to the book's online description.
The 2013 Holman Award went to Tim Armstrong for his book "The Logic of Slavery: Debt, Technology, and Pain in American Literature" (Cambridge University Press, 2012).
Sharon Monteith, professor of American studies at the University of Nottingham in the United Kingdom, chaired the award committee, which was made up of international scholars. Monteith said the group had tough choices but was impressed by Watson's work.
"The panel commended the book for 'its ambition and temporal scope' and valued this 'expansive study which rematerializes and embodies our study of Southern texts," Monteith said. "The wonderful close readings were noted, and, as one panelist said, 'The book is as lucidly written as it is intellectually demanding.' Therefore it was awarded honorable mention in a year in which publishers sent the panel a lot of books to read that were of very high quality."