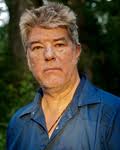 There will be a special screening of HBO's Treme, episode 6, hosted by the screenwriter, Chris Offutt on Tuesday, October 30 at 7 p.m. in Bishop 209.
Please join author Chris Offutt and the Ole Miss community for a screening of the episode of Treme that Offutt scripted for HBO.  Treme, the award-winning HBO series, is set in a post-Katrina New Orleans and features musicians, chefs, and artists as compelling characters.  The series has been celebrated for its lively, authentic writing and Offutt, a Guggenheim recipient, was invited to write the sixth episode of the season.
Before screenwriting, Offutt was an award-winning author of five books that received awards from the Guggenheim Foundation and American Academy of Arts and Letters.  He has also written and produced for True Blood, Weeds, and wrote two commissioned pilots for Lions Gate and CBS.  His short film "The Trapper" was produced in 2010.  He is currently working on a novel and a screenplay.
The viewing will be followed by a Q and A with Offutt in which he will discuss writing for TV in general and HBO in particular.  What are the challenges of writing a script for a series, and how is this kind of writing different than writing novels or short stories?  How can one learn more about writing for TV?