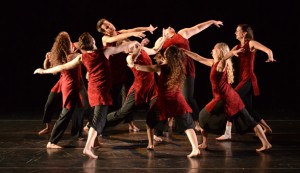 Photo by Phil Waller
A group of UM students were recently selected to perform in the Gala Concert at the American College Dance Festival Association (ACDFA) Southeast Regional Conference.
More than 35 colleges and universities attended the conference. Of these 35 institutions, 30 participated in the adjudication process for the Gala, submitting 48 pieces.  Of the 48 dances entered into the adjudication process, only 11 were selected for the Gala Concert. The pieces selected for the Gala are deemed the most outstanding choreographed and performed pieces during the festival.
UM submitted two works for adjudication: a student work by theatre arts senior Sam Damare entitled "The Art of Missing You" and a piece by guest artist Michael Foley, entitled "The Whipping Season."  Foley's piece was among the 11 chosen for the Gala Concert.
Foley was a guest artist at UM in January. During his time at the university, he taught his winning piece to the student dancers. Dance instructor Jennifer Mizenko was impressed with Foley's dance technique.
"Michael's style is extremely kinetic and brings together movement from the world of hip hop and contact improvisation," Mizenko said.
During the adjudication process, three nationally-known dance professionals viewed each piece and critiqued them anonymously. They were provided only with the title of the piece and the title of the music.  The adjudicators then watched the dance and responded to the audience.
The judges commented positively on Foley's choreographed piece. The judges said that the dance had "clear committed movement" and that it was "a beautiful change of energy."
This is the 5th time a piece entered by the University of Mississippi's Department of Theatre Arts has been selected for the Gala since they first attended in 1990. The selected piece was performed earlier this spring in the production of Mississippi: The Dance Company's "A Winter's Collection."
Madi Marlatte, a student who performed, felt honored to be a part of the process.
"It was extremely humbling to be picked especially with all of the phenomenal dancers we had been among all weekend," Marlatte said. "The whole experience was life-changing.  ACDFA was a great experience and I'm so lucky that my first time there I was able to dance in the Gala."
"In the 22 years Ole Miss has been participating at ACDFA, I believe this year was definitely the strongest, with amazing dance performances from all the schools in attendance," Mizenko said.  "I was especially thrilled that our students were selected for the Gala Concert, amongst this very high caliber of artistic talent and creativity."