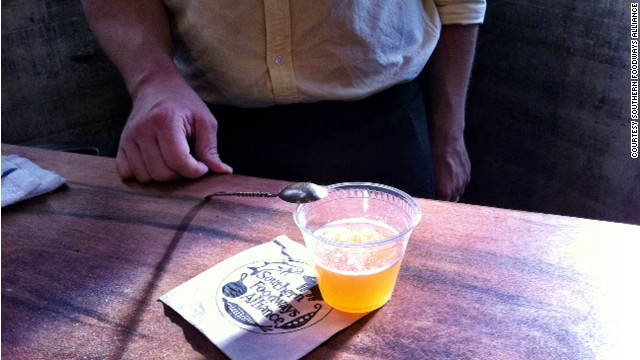 Editor's note: The Southern Foodways Alliance delves deep in the history, tradition, heroes and plain old deliciousness of barbecue across the United States. We'll be sharing dispatches live from their 15th annual Symposium Barbecue: An Exploration of Pitmaster, Places, Smoke, and Sauce"in Oxford, Mississippi, over the nest few days. Dig in.
The 15th Southern Foodways Symposium officially kicks off Friday at noon. But we got things started a little early with a well-balanced combination of photography, fashion, cocktails, music, literature, film and hot dogs. You know, the usual SFA ingredients. Herewith, an instruction manual on how to spend a pre-symposium Thursday evening, in case you ever find yourself in this position. 1. Head to the Powerhouse, at the corner of University and South 14th Streets, a few blocks off the Oxford Square. It's the headquarters of the Yoknapatawpha Arts Council (get it?) and plays host to a variety of community art events. There, mastermind Wayne Andrews will have created a chandelier out of larger-than-life, black-and-white photos of a splayed pig destined to become barbecue. On the walls hang more black-and-white barbecue shots, from pitmaster (and -mistress) portraits to close-ups of the tools of the trade: a shovel of coals and a heat-resistant glove. Interspersed with the photos are dresses of intricately embroidered and beaded cotton jersey. They hang on rusty mattress springs, the kind that might be used in a pinch for a homemade rural barbecue pit.
2. Okay, you've never seen anything like this before. It's a little out there. Luckily, the artists are in the room to talk you through their work. Really, go ask them! Photographer Landon Nordeman won a James Beard Award for this barbecue portfolio, which he shot in iconic barbecue joints from the Carolinas to Arkansas. "Do you think you could blow those shots up a little, Landon?" we asked. And blow them up he did.
Last year, Natalie Chanin of the Alabama Chanin fashion label costumed the performers for our world-premiere collard opera, "Leaves of Greens" by Price Walden. After the symposium, we raised the stakes. We asked Natalie if she would create clothing inspired by barbecue. And she took us at our word: she literally smoked the dresses at Jim 'N Nick's in Birmingham with the help of Drew Robinson. The results look – and smell – like nothing we've ever seen before.
3. At this point, it's cocktail hour. Time to belly up to the bar. Meet Greg Best of Holeman & Finch in Atlanta, our bartender for the weekend. We've heard that Greg can take the contents of a near-empty pantry or refrigerator – balsamic vinegar, ketchup, bottom-shelf whiskey – and create a cocktail you'll be talking about for years. This afternoon, he's whipped up an Ash Wagon Punch with Cathead vodka, vermouth, bitters, fresh lime juice and perhaps some other magical Greg Best ingredients. We're not sure. We just know that the first one went down real easy.
But the symposium is a marathon, not a sprint. Best to start out slowly. It hasn't even officially begun yet.
4. Head up the hill to the Lyric Theater for Thacker Mountain Radio.
This week, Thacker celebrated its 15th birthday. And instead of getting its learner's permit, it blew out its candles with the SFA. Congratulations to Thacker for fifteen years on the air!
As usual, Thacker's house band, the Yalobushwhackers, were on fire, playing to open and close the show. They sang plenty of food-themed songs, ending with Hank Williams's "Hey, Good Lookin'."
Three SFA symposium presenters gave readings this evening during the show. Randall Kenan read a short story about a megachurch barbecue, John Dufresne read poems about eating in and dining out, and Monique Truong talked about the roles that food and hunger played in her novel "Bitter in the Mouth."
Now, here's where we get to brag that our symposium unofficially began with a bang and a whistle (not a whimper). Sharde Thomas and the Rising Star Fife and Drum Band performed the North Mississippi Hill Country music that 23-year-old Sharde learned from her grandfather, the late, great, Otha Turner. Stay tuned for more of Sharde and her band later this weekend.
When Thacker was over, it was time for a brief intermission. And as everybody knows, nothing says "intermission" like barbecue bologna dogs with mustard and slaw. These beauties were dreamed up by Kirk Lovejoy, the charcutier (and bolognier) for the City Grocery restaurants.
Fortified by our snacks, the crowd was ready for the world premiere of Joe York's newest film, "Pride & Joy."
Joe has made over 30 short films for the SFA. In "Pride & Joy," some of the people and places from those films return, alongside new faces, dishes and locales from Richmond, Virginia, to Snook, Texas. If Joe's earlier films were short stories, he's just finished his first novel. The threads that hold it together are sense of place; love of labor; and connection with family, friends and strangers through the common bond of food.
We can't wait for you to see "Pride & Joy." Stay tuned for details about winter screenings in New York, Atlanta and Charleston, followed by a television premiere on South Carolina ETV in spring 2013.
And Joe, you've done us proud!
When the movie ended and the lights came up, Sharde Thomas and her band processed out of the Lyric, leading the crowd onto the Square, just as her grandfather did at our first barbecue symposium a decade ago.
Today's installment comes courtesy of Sara Camp Arnold, the editor of SFA's quarterly publication, "Gravy."