March 28, 2016  |  By Morgan Walker for The Daily Mississippian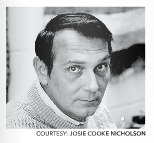 James J. Cooke was known to many as a decorated military veteran, esteemed historian, renowned professor and a dedicated husband and father. Cooke, age 77, died March 6, 2016 at Baptist Memorial Hospital in Oxford.
Cooke joined the U.S. Regular Army in 1957 and was stationed in Ingrandes-sur-Vienne. Shortly thereafter, he met his wife, Josephine, in a picturesque scene at a USO dance in France.
Cooke arrived at the University of Mississippi in 1969, where he taught history for 30 years. He was later commissioned as a Second Lieutenant in military intelligence as a strategic analyst. He also commanded B Troop of the 108th Armored Calvary of the Mississippi Army National Guard for six years, and was Executive Officer of the second Battalion, 198th Armored Regiment. 
In 1990, Cooke returned to the Regular Army, where he served as a liaison officer and was placed with the French Foreign Legion in Desert Storm. Cooke was awarded the Bronze Star Medal for his combat service. He later retired from the Mississippi National Guard with the rank of Brigadier General, and was awarded the Meritorious Service Medal and the Magnolia Cross of the State of Mississippi.
In his time at the University, he published 10 novels and numerous articles on history and his time in the U.S. military. In 1987, Cooke was awarded the Liberal Arts Outstanding Teacher of the Year award.
Jeffrey Watt, UM history professor, said Cooke was the first member of the history department to offer courses on the Middle East.
"Given his military background, he not surprisingly showed a strong interest in military history in both his research and his teaching," Watt said.
According to Watt, Cooke's work ethic was exemplary.
"Jim was my office neighbor for several years, and he typically arrived in the office each morning about 6, well before the time that most of us showed up for work."
Josie Nicholson, Cooke's daughter, said his teaching style was like no other. "He had a passion for bringing history alive for others to experience it— not just memorize facts, dates and locations, but to learn about the men and women that made their mark on the world," Nicholson said.
According to Nicholson, Cooke was an avid re-enactor.
"He had my mother make all of the clothing he wore, because he was dedicated to authenticity, he wanted to be sure the buttons were sewn on correctly, that the underwear was exactly the way they would have worn it," Nicholson said. "Then he would go out and live the long weekends and fight the battle of Shiloh or Gettysburg, with the horses and everything."
Cooke's passion for the military, history and academia allowed him to connect with all types of people, Nicholson said.
"The things he was passionate about were the values of duty, honor, and respect," Nicholson said. "He felt driven by serving a bigger purpose and being a part of things."
Cooke's love and passion for the military did not end with retirement. He remained active with the local branch of both the American Legion and the Veterans of Foreign Wars. According to Nicholson, Cooke requested memorial donations be made to the Veterans of Foreign Wars.
Cooke valued honor and service so much he chose to have a WWII soldier's flag draped over his casket at his memorial to honor his service.
"He thought this man deserved honor and respect," Nicholson said. "He wanted to make his service come alive again."
His 11th book will be published posthumously in the coming year.
His legacy and passion for military history will be passed on to his four children and a grandson soon to be born.
"He had such a passion for military history," Nicholson said. "He knew he was living what would become history."