The Toughest Job: William Winter's Mississippi documentary film by Matthew Graves and the Southern Documentary Project 
May 21, 2015 | By Becca Walton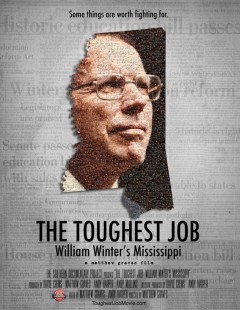 The Toughest Job: William Winter's Mississippi, a documentary film by Matthew Graves and the Southern Documentary Project (SouthDocs), has been nominated for an Emmy for best historical documentary by the National Academy of Television Arts and Sciences (NATAS). The Southern Documentary Project is an institute of the Center for the Study of Southern Culture.
The Toughest Job emphasizes William Winter's role as a leader in education reform, economic development and racial reconciliation. Utilizing materials from the Mississippi Department of Archives and History and interviews with Governor Winter, Elise Winter, Vernon Jordan, Dick Molpus, Myrlie Evers-Williams, Ray Mabus, Reuben V. Anderson, Charles Overby, President Bill Clinton and others, the film examines the political life and policy accomplishments of one of Mississippi's most progressive leaders.
"It's been a remarkable challenge attempting to condense a whole life's worth of passion, bitter defeats, and momentous victories into an hour-long documentary but I feel very satisfied with what we've created," said Matthew Graves, filmmaker. "To me, it's a thrilling story of perseverance and leadership and is truly a testament to what is possible in this state."
For Southern Documentary Project Director Andy Harper, this film fits perfectly into his mission of Mississippians telling Mississippi stories. "I think it is vitally important that we document the stories of leaders like William Winter," Harper said. "Governor Winter felt a moral obligation to provide all Mississippians an adequate education and he worked tirelessly towards that end. It is our obligation to tell his story."
The film, executive produced by Harper and David Crews, had its broadcast premiere on Mississippi Public Broadcasting on Oct. 2, 2014. It has since been screened at the Clinton Presidential Library in Little Rock, the Newseum in Washington, D.C., and at the Overby Center for Journalism and Politics at the University of Mississippi.
Winners of the 2015 Southeast Emmy Awards will be announced June 6 in Atlanta.