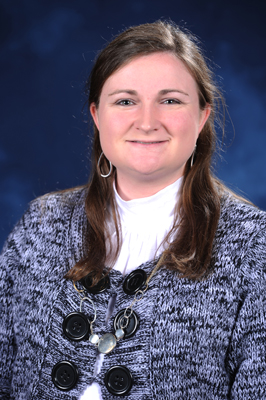 Dana Nicole Reinemann
Honors student Dana Nicole "Nikki" Reinemann has been named the University of Mississippi's 13th Barry M. Goldwater Scholar.
The UM senior from Batesville is the tenth UM student to receive the prestigious award since 1998 and the fifth in the past seven years. Reinemann is first author of the paper "Vibrational Spectroscopy of N-Methyliminodiacetic Acid (MIDA)-Protected Boronate Ester: Assignment of the B-N Dative Bond Stretching Frequency," published in and featured on the cover of the Journal for Physical Chemistry A. She was a NASA Academy research associate in the Environmental Control and Life Support Systems branch of Marshall Space Flight Center in 2010.
"This will allow me to finish another degree with the funding received from the award," said Reinemann, who is pursuing a double major. "Having the B.S. in chemistry along with the B.S. in chemical engineering will better prepare me for various graduate school options and allow me to be more versatile in industry. I feel very honored, humbled and am very thankful for their recognition."
Reinemann expects to complete her degrees in May 2013. Following graduation, she plans to pursue a doctorate in chemical engineering so she can conduct research in chemical and environmental engineering for a government agency or company.
Reinemann credits UM faculty and staff across many disciplines for giving her a solid foundation for her future career path. "I could not have received this award without support from both the chemical engineering and chemistry departments," she said. "My research adviser, Dr. Nathan Hammer in the chemistry department, has offered me opportunities that not many undergraduates would normally receive.  He offered me a position in his lab just after having him for freshman chemistry.  He allowed me to develop my own project and perform worthwhile work.  This has led to various conference trips, a publication and, now, the Goldwater.  I am very thankful to him as well as my lab mates for their help and support."
Reinemann also acknowledges the role of her family in her achievements.
"I could not imagine being where I am today without the unconditional support of my parents, sister and little boy," she said.
Faculty members in Reinemann's major fields of study boast of her academic achievements and dedication.
"I have had the privilege to mentor Nikki from her first day in college," said Hammer, assistant professor of chemistry. "She is among the top students I have instructed in Freshman Chemistry 105 and 106, and because of her dedication and unique aptitude in chemistry I recruited her to work in my research group.
"From day one in the lab, her natural abilities to perform high level science were evident.  She developed her research project on her own without any assistance and has operated on the level of a graduate student for the past few years. She's a brilliant young scientist who has a bright future ahead of her.  Her success is due not only to her intelligence and aptitude for science, but also her unparalleled work ethic."
"(She's) quietly awesome," said John O'Haver, professor and associate dean of chemical engineering.
"She makes her fellow students look good. She makes the faculty and department look good. And she makes Ole Miss look good," said Clint Williford, chair and associate professor of chemical engineering. "Nikki is not a big talker; she's a big doer."
Charles Hussey, chair and professor of chemistry, echoed those sentiments.
"Nikki is a multidimensional, exceptionally talented student," Hussey said. "She sees and understands concepts that most of her peers may never understand. We are very lucky that she chose to seek a degree in chemistry with us.  She is destined for a great career in science or engineering, if she chooses that path."
A fourth-year student in the university's Sally McDonnell Barksdale Honors College, Reinemann is also a member of Phi Kappa Phi, Tau Beta Pi, the American Institute for Chemical Engineers and American Chemical Society. Conducting research under the supervision of Hammer, she has presented at the 242nd national meeting of the American Chemical Society and the 41st International Conference on Environmental Systems of the American Institute of Aeronautics and Astronauts.
Her extracurricular activities include serving in the Society of Women Engineers and the university's chapter of Engineers Without Borders.
Reinemann has also won numerous outstanding student awards, including the Outstanding Physical Chemistry Student. She is a member of the Pride of the South Marching Band and Ole Miss Symphonic Band.
She is the daughter of George and Teresa Reinemann of Batesville.
The Barry M. Goldwater Scholarship and Excellence in Education Program was created in 1986 to honor U.S. Sen. Barry Goldwater. The purpose of the program is "to alleviate a critical current and future shortage of highly qualified scientists, mathematicians and engineers." The scholarship seeks to encourage talented student researchers in those fields to prepare for and enter careers as research scientists.
Students apply in their sophomore or junior year. The scholarship provides up to $7,500 per remaining undergraduate year to assist with the recipient's tuition, fees, books, and room and board. This year the Goldwater Foundation named 282 scholars from a field of 1,123 applications.
Students interested in pursuing the Goldwater Scholarship can contact Andrus Ashoo (onsa@olemiss.edu), who serves as the university's Goldwater representative.  The Office of National Scholarship Advisement conducts workshops each semester to introduce students to major national scholarships. Go to https://www.honors.olemiss.edu/national-scholarship/ for more information.