First book to focus on history and impact of the three national service program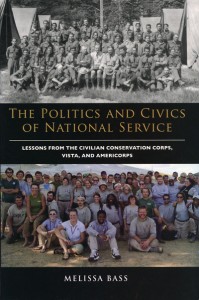 In 1933, Franklin Roosevelt created America's first and largest domestic national service program, the Civilian Conservation Corps.
The CCC was popular but short-lived, while other, more controversial, national service programs, such as Volunteers in Service to America and AmeriCorps, survived. Why?
Melissa Bass, assistant professor of public policy at the University of Mississippi, addresses this question and others in her first book, "The Politics and Civics of National Service: Lessons from the Civilian Conservation Corps, VISTA, and AmeriCorps" (Brookings Institution Press, 2013).
In "Politics and Civics of National Service," Bass focuses on the history, modern relevance and civic impact of domestic national service. She argues that only by examining programs over time can we understand national service's successes and limitations, both in terms of political support and civic lessons.
Bass' book provides the first detailed policy history of VISTA and AmeriCorps, and of America's main national service programs taken together as a whole.
"When I started this project I was interested in two things: how the three service programs differ and why they didn't build on each other, and how each of these programs, developed under three different presidents, think about citizenship," Bass said.
Moreover, Bass wanted to further understanding of 20th century American political development by comparing programs founded during three distinct political eras – the New Deal, the Great Society and the early Clinton years – and tracing them over time.
To a remarkable extent, the CCC, VISTA and AmeriCorps reflect the policymaking ethos and political controversies of their times, illuminating principles that hold well beyond the field of national service, she said.
"This book isn't just for the classroom. It's for those concerned about what government does and how national service is a big part of that," said Bass, who teaches a popular civic engagement and public policy course during the fall semester. "We should all want to understand the policies that brought us the CCC, VISTA and AmeriCorps because we can learn from our past to improve our future commitment to national service."
Before joining the UM faculty in 2005, Bass was assistant professor at the University of Puget Sound and citizenship specialist/4-H Youth Development at the University of Wisconsin Extension Service. She earned a doctorate in politics from Brandeis University in 2004, a master's in public affairs from the University of Minnesota in 1995 and a bachelor's in political science from Indiana University in 1991.
Other works by Bass include: "The Success and Contradictions of New Deal Democratic Populism: The Case of the Civilian Conservation Corps," an article published in the journal The Good Society in 2012; "No Good Deed Goes Unpunished," from the May/June 2011 issue of The Washington Monthly; and a review of "Pledging Allegiance: The Politics of Patriotism in American Schools," published in the July 2007 issue of Teachers College Record.