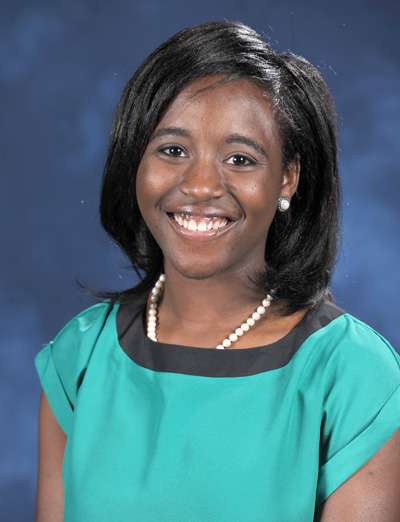 As president of the 2012 senior class at the University of Mississippi, Toran Dean addressed thousands gathered for annual commencement exercises. Her brief-but-stirring remarks summarized years of growth that continue as she embarks from her alma mater.
"I decided to come to Ole Miss because of the atmosphere," said the Hattiesburg native who earned a bachelor's degree in geology and geological engineering. "It truly was a home away from home. It was comforting to know that no matter how large the university was, it was still small, and I would always see a familiar face on campus, whether it was friends or staff."
Dean's expectations completely changed — in a good way — once she attended the university.
"Ole Miss was so much more than just a home away from home," Dean said. "It became a lifestyle. It taught so many life lessons when it came to hard work, hospitality and responsibility."While maintaining a respectable grade-point average in a rigorous major, Dean also was heavily involved in extracurricular activities. The 2012 UM Hall of Fame honoree also served the ASB as a senator, director of student services and external legislation monitor. She was public relations chair of the Engineering Student Body and a two-time officer of the Geological Society. A Luckyday Scholar, she held an Engineering Ambassador Scholarship and Academic Excellence Scholarship.
Dean belonged to the Black Student Union and was director of policy for One Mississippi. A member of the Chancellor's Standing Committee-Student Services, she has been an orientation leader and a mentor in the School of Engineering and with Freshman Focus and EDHE, UM's freshman-year-experience program.
Her volunteer efforts have been recognized with a President's Volunteer Service Award and include work with the San Mateo Empowerment Project, a road-building effort that Ole Miss students support in Belize. Her other service includes work with the William Winter Institute for Racial Reconciliation, Chicago Cares and N.R. Burger Middle School Beta Club.
"The accomplishment I am most proud of is one that didn't receive any awards," Dean said. "I think that it is simply an accomplishment not to lose who you truly are when you come to college. It is something that I tried my best not to do while receiving awards or while others may have sung my praises.
"Truly, evaluating my growth by my personal morals and standards and not by others was one of the greatest accomplishments because it was the realization that once I leave the university, no matter how successful I was, there will always be someone just as successful. How humble are others in those successes will make all the difference (between me and them)."
Among the UM faculty members who truly influenced Dean is Cathy Grace.
"She is the last person you would pick out in a crowd as a college professor, not just because of her Hawaiian shirts and visor, but because of her willingness to go above and beyond to truly get to know her students," Dean said. "I can say the same about so many professors in the geological engineering department, but Cathy not only has the reputation in the department but [also] around campus."
Specifically, Dean credited Grace with teaching her to prioritize.
"In my sophomore year, Cathy taught me it was school first and everything else second. It's a concept that seems simple but also something that I — along with many other students — struggled with. Whenever my schedule got a little crazy, Cathy taught me that success comes with the right priorities. That made my schedule a little less crazy."
Dean's short-term plans are to travel and enjoy interests that she hasn't had time for in the past four years or that she won't have time for once she has to settle down.
"My long-term plans are to work in water resources," Dean said. "I would really like to start a nonprofit [organization], bringing potable water to communities in need domestically as well as internationally. We all hear stories about villages in Africa or South America not having clean drinking water, but there are also communities two hours away in the Mississippi Delta that may not have that same necessity. Hopefully, my degree in geological engineering will help me out with that goal."
Dean continues to receive praise from engineering staff and faculty for her commencement address.
"Her speech at the commencement as president of the senior class was outstanding," Dean Alex Cheng said. "We are proud of Toran, but I don't think the School of Engineering can take the full credit. It is the Ole Miss liberal arts environment that allows the student with such capability and motivation to grow like that."
Marni Kendricks, assistant dean of the engineering school, agreed.
"It was indeed exceptional," Kendricks said. "Toran's a good success story. She has ambitious plans following graduation too."