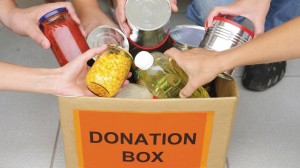 A group of faculty, staff and students at the University of Mississippi recently led efforts to establish the Ole Miss Food Bank, an organization that serves to feed hungry students on campus. "I think this can be one of the most important projects that we have ever undertaken at Ole Miss," said Camp Best, graduate assistant. "I believe this because the Ole Miss Food Bank will not only be serving a tremendous need, but also because it can be such an insightful and teachable experience for so many in the Ole Miss community who before may not have realized that there are actually hungry students on our own campus."
The mission of the organization is to provide nourishment to end student hunger and to foster a healthy community. Their motto is "Ending hunger. Building community."
"I was personally not aware of the need of a food bank until I heard stories of faculty and staff coming across students who are struggling with hunger," said Abby Olivier, a senior public policy major from Hattiesburg. "We need this food bank for a number of reasons. First, since our campus is growing, it is difficult to keep track if students are hungry or not. Second, we have a good percentage of students on need-based financial aid, and mixed with the relative poor economy, many students are living from paycheck to paycheck or depending on their parents who may be living from paycheck to paycheck.
"Overall, the need is evident, so the Ole Miss Food Bank will be the basis of that effort to provide our students with food when they are going through rough times."
Though still in its planning stages, the organization's structure is simple. Students who need to utilize the food bank will walk in, show their university ID card, select food items and leave. There is no application process, and all student users' names will be kept confidential. Various committees of the Ole Miss Food Bank are working on staffing, food drives, sponsorships and marketing.
Olivier encourages students to take part and help the Food Bank make a difference in the lives of hungry students.
"What I like to remind students is that we really do not know if our peers are struggling with hunger," she said. "We recognize people walking from class to class, and we even spend time with friends who we may not know are hungry. Becoming involved with this organization will be a way for students to help their fellow students. It is also important for students and community members to donate. I remind people that there is a community food bank in Oxford, but it is rare for students to become eligible to utilize it. I hope that people can realize that and can understand the true need for food on the Ole Miss campus."
For donation information or general information about the Ole Miss Food Bank, contact Jessica Broukaert at jgbrouck@olemiss.edu.