Kayla Snow is determined to spread the word about the value of volunteerism, and during the Miss Mississippi Scholarship Pageant this week (June 27-30) at the Vicksburg Convention Center, she will take center stage to do just that.
As Miss University, representing the University of Mississippi, Snow chose Kids Can, Too! as her platform, sharing her personal experiences to help children realize their potential for serving others.
"I became involved in volunteerism at an early age," she said. "I was extremely shy as a child and felt my shyness would prevent me from ever being a leader. It wasn't until I got involved with volunteering that I realized I could lead through service, and I became extremely passionate about helping others because I loved it."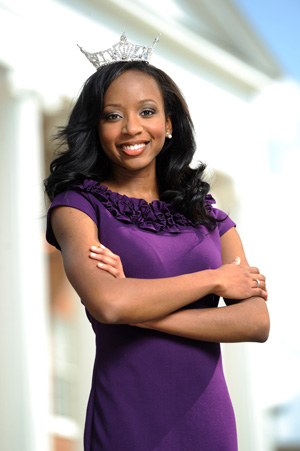 Since winning her crown at Ole Miss in January, the Okolona native has traveled around the state as an ambassador for the university. She has spoken to school groups, and in April, she was an invited guest at the state Capitol in Jackson, where she addressed both the House and Senate. In March, she enjoyed meeting the other contestants and sharing her platform at the Miss Mississippi orientation.
A highlight of her reign came last week, when she revealed her wardrobe selections at a trunk show at the Ford Center, and combined it with a silent auction to raise money for the Blair Batson Children's Hospital. She also performed her pageant talent, a piano rendition of "Asturias."
"I was so proud of the businesses that donated items for the auction and for those who came out to bid on them," she said. "We raised nearly $600, and I cannot wait to make this donation to the children's hospital."
Bradley Baker, interim director of UM's Department of Campus Programming, has helped Snow prepare for the state pageant.
"Kayla is an outstanding representative for the university," Baker said. "Her determination and work ethic alone are what set her apart from others. She has worked extremely hard to prepare for the Miss Mississippi Pageant, and I know she will represent Ole Miss well in Vicksburg this week."
With several mock interviews, talent rehearsals and other preparation, Snow said she will go to the pageant "knowing that we gave it everything that we had."
"The University of Mississippi has been my home away from home for the past four years, and I have seen this role as a chance to give back to the place I love dearly."
Snow said she has also matured and benefitted personally through the experience.
"I would definitely say that I have learned that I should focus on just being myself and not pretending to be someone else. Sometimes, in this process, it can be easy to lose a sense of who you are because there are so many other great contestants. I realize that I have my own set of strengths and by focusing more on those, whether in pageants or in life, I will feel so much happier and that will ultimately take me much further."
Snow graduated from Ole Miss in May with a bachelor's degree in biochemistry. She has enrolled in the School of Pharmacy beginning this fall. A graduate of Okolona High School, she is the daughter of Othelma and Gwen Snow of Okolona