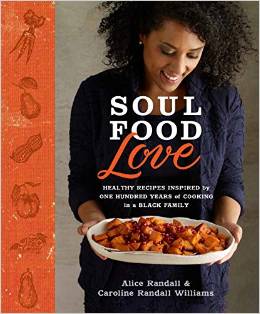 Nov 12 2014  |  by McKenna Wierman
Courtesy of The Daily Mississippian
Published poet, young-adult novelist, and MFA student Caroline Randall Williams has co-authored a cookbook titled Soul Food Love: Healthy Recipes Inspired by One Hundred Years of Cooking in a Black Family along with her mother, author and songwriter Alice Randall. The book (published by Clarkson Potter on February 3, 2015) features 80 healthy black soul food recipes, is a project Williams said she has always wanted to tackle.
"I've always loved cooking," Williams said. "The last book I had published was a children's book, so this is totally another sack of potatoes."
In the past, Williams co-authored a children's book titled The Diary of B.B. Bright, Possible Princess with her mother, which was published in 2012 by Turner Publishing, and has a poetry book Randall said is set to release early next year. Despite her past experience, Randall is thrilled to be publishing a cookbook.
"It's different on a much larger scale. I'm just trying my hand at all the genres," she said. "On top of that, I'm working with my mom a second time, which is something I really enjoy."
The cookbook also includes a personal touch not found in the everyday healthy southern soul food text, a glimpse at the author's family history in twentieth century America. The recipes included in the book are translations of traditional African-American Southern foods, made healthier, more affordable and easy to cook. Each recipe is also a little piece of history, many of them handed down by generations of black women overtime, such as "Fiery Green Beans" and "Sinless Sweet Potato Pie."
But the recipes also serve as a kind of setting to what Williams and her mother hope will serve as a model for the modern "strong black kitchen."
Integrated marketing communications major Daulton Byars said he personally finds the idea of William's cookbook interesting.
Byars, like many students living independently for the first time, said he has begun to take a greater interest in cooking now that he has his own kitchen and thinks it's a good idea to look into healthier options, especially when it comes to traditional soul food.
"I love Southern food. I like Southern cooking, and I think it's a cool concept to take some traditional recipes and make them healthier," Byars said.
Beyond delicious home-style cooking becoming a little friendlier to one's waistline, it will also be interesting to see the personal touch of Williams and her mother in their cookbook.