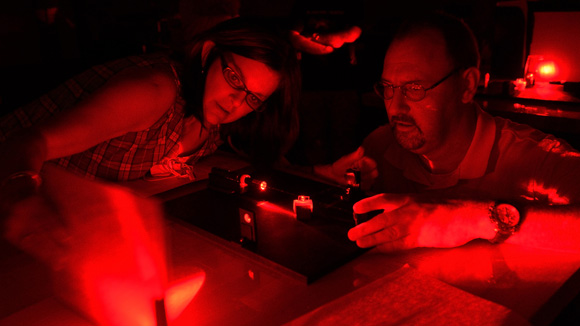 High school physics teachers Darla Nash of Corinth (center) and Dennis Reed of Columbus (right) collaborate on getting a laser beam channeled into the reflective glass in a miniature interferometer. With their laser focused, Darla Nash and Dennis Reed observe how its beams of light diverge in different directions upon mirrors in the interferometer model. Five high school physics instructors attended a two-day professional development workshop on using e-labs and laser interferometers. The event was hosted by the University of Mississippi Department of Physics and Astronomy. Photo by Robert Jordan/Ole Miss Communications
A select group of Mississippi high school teachers are learning how to use the same e-lab and laser interferometers used by University of Mississippi researchers in their on-going studies of gravitational waves and black holes.
Five physics instructors participated in the two-day professional development workshop hosted by UM's Department of Physics and Astronomy. The event, which began Monday (June 11) and ends Tuesday (June 12), aimed to educate the teachers on the physics of the Laser Interferometer Gravitational-wave Observatory. It included hands-on demonstrations involving real laser interferometers and online activities.
"Teachers were introduced to the LIGO research program, the basics of laser interferometry and were trained to use the I2U2 online e-lab interface," said Marco Cavaglia, associate professor of Physics and Astronomy and principal investigator for the Ole Miss LIGO Team. "E-labs are web-based science activities readily accessible to students in the classroom."Cavaglia and Lucien Cremaldi, chair and professor of physics and astronomy at UM, sponsored the training through their Department of Energy and National Science Foundation research grants. Sessions were also conducted by Ken Cecire, QuarkNet staff member from Notre Dame. Dale Ingram, LIGO E-lab outreach coordinator, used a remote connection from the LIGO Lab in Washington state for his session.
"Our objective was to train these teachers to become experts in using the LIGO e-lab so they can assist their students who might be interested in seismometer and interferometer experiments," Cremaldi said. "The LIGO experiment is searching for gravitational waves produced by violent cosmological events taking place in our universe."
The teachers were very appreciative to the UM scientists for making the LIGO e-lab workshop possible.
"Because we're all high school physics teachers and the Mississippi Frameworks require us to cover wave lengths of light and properties of energy, this research fits perfectly into our curriculum," said Dennis Reed of the Mississippi School for Math and Science in Columbus. "The e-lab experience gives our students another tool which emphasizes that light does behave like a wave similar to ocean and sound waves."
Martha Mills of North Delta School in Batesville said she sees the value of having students use the online lab.
"Hands-on experimentation is very important in helping the children better understand what gravitational waves might be doing in space. By looking at the data in the e-lab, they will actually be contributing to the research," Mills said.
One teacher was particularly elated about the scope of the LIGO project and its potential to generate future young physicists from the state.
"What impressed me most about all of this is the National Science Foundation's investment into an area of science that is so pure that it's still undetectable and therefore non-applicable," said Denise Byrd of Grace Christian School in Louisville. "Gravitational-wave research is their largest project, which is pretty amazing."
Other participants were Darla Nash of Corinth High School and Kris Sahu of Ridgeland High School.
For more information about the LIGO experiment, visit http://www.ligo.org/.