Lodge Manufacturing makes three-year commitment to Southern Foodways publication
The nation's leading manufacturer of cast iron cookware has committed $150,000 to the University of Mississippi-based Southern Foodways Alliance, giving the SFA an ingredient that will make its Gravy a little bit richer.
Lodge Manufacturing of South Pittsburg, Tenn., will donate $50,000 per year for the next three years in support of the SFA's innovative publication, Gravy—a combined quarterly print and bi-weekly podcast storytelling platform.
"Gravy shares stories of the changing American South through the foods we eat," said SFA Director John T Edge. "Gravy showcases a South that is constantly evolving. These media use food as a means to complicate stereotypes, document new dynamics, and give voice to the often unsung folk who grow, cook, and serve our daily meals."
In May, Gravy was named Publication of the Year by the James Beard Foundation during the foundation's Journalism Awards.
For the past three years, Lodge Manufacturing has supported the SFA as a donor. And the SFA has recognized that support at its annual fall Symposium. With Lodge's increased financial investment in the SFA, Lodge gains donor recognition in the Gravy podcast.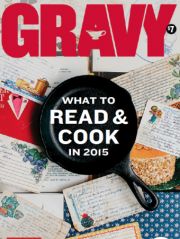 The SFA—a member-supported non-profit institute of the university's Center for the Study of Southern Culture—sponsors scholarships, mentors students, stages symposia, collects and shares oral histories, and produces and publishes books and films.
"The way Gravy uses oral history to tell a story in an understated manner is the way we like to present our message," said Mark Kelly, public relations and advertising manager for Lodge Manufacturing. "When the SFA tells the story about a shrimper on the Gulf Coast who supports his family and helps restaurants stay in business, for example, that's something we want to be a part of. The independent restaurateur or food distributor or baker … they're such a huge part of the American culinary experience and business model and we support that. So through those messages, people learn about our products and discover that we're an integral part of the American food culture."
Lodge Manufacturing's support will help give Gravy longevity, enabling the SFA to continue to share stories that can be enjoyed for generations.
"Lodge Manufacturing is a forward-thinking company, deeply rooted in the place we call home, a company that has made bold and progressive investments in its own future, a company that comprehends the value of SFA work and is game to help us reach a broader audience," Edge said.
Individuals and organizations can make gifts to support the Southern Foodways Alliance or the Center for the Study of Southern Culture by mailing a check with the endowment noted to the University of Mississippi Foundation, P.O. Box 249, University, Miss. 38677; visiting www.umfoundation.com/makeagift or contacting Nikki Neely, development officer for the CSSC at 662-915-6678 or nlneely@olemiss.edu.
Download Gravy for free from the iTunes store, Soundcloud, and the SFA website. For more information, visit www.southernfoodways.org and follow on Twitter @Potlikker.
November 2, 2015 | By Bill Dabney