MARCH 27, 2014 BY MICHAEL NEWSOM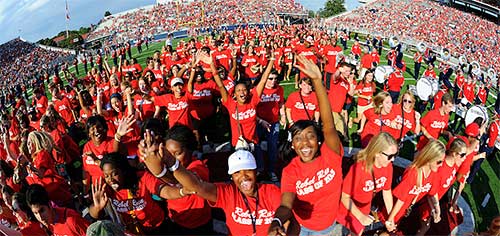 While many U.S. universities are losing 20 percent to 30 percent of their freshmen each year, the University of Mississippi is gaining attention for a revamped program that is helping 85.6 percent of its freshmen stay in college.
The high rate of college dropouts has prompted the Obama administration and experts across the country to look for ways to improve retention. In fact, the president has called for initiatives that in some cases are already in place at UM, where freshman retention rates have improved from about 81 percent to 85.6 percent since the creation of the Center for Student Success and First Year Experience.
The center's director, Kyle Ellis, characterized the nearly five-point jump in freshman retention this year as "phenomenal." Tailoring its work to the needs of each student has been the single biggest driver behind those record rates.
"Years of research with our freshmen revealed that the most common reasons for a freshmen to drop out are financial, social fit (friendships and homesickness), health and academics," Ellis said. "And within each of those challenges are as many different issues as there are students. To be effective, the solution must be customized one-to-one for each student, and the problems must be identified early enough in the semester to avert disaster on the semester report."
For many years, student retention efforts existed in parts within several different departments across campus. Last year, many of these programs were combined within the new center and a committee was formed to better coordinate all first-year programs and collaborate on piloting new ideas.
The center provides academic advising to about 80 percent of the freshman class, as well as undeclared students, and also coordinates several first-year student experience initiatives. It also has resources for veterans and members of the military, among other services.
The center's leadership cites the new first-year experience course, EDHE 105, as a significant factor in the success of the program. The lesson plan and 391-page text for this course were developed entirely by university faculty and staff.
Representatives of the center coordinate with all UM academic departments and faculty, the dean's offices, the Department of Student Housing, Center for Excellence in Teaching and Learning and the Office of Financial Aid, among others, to ensure they identify student problems early and provide individual support.
"We're really lucky in this university and this learning community to have support so broadly for these initiatives," said Dewey Knight, associate director of the Center for Student Success and First Year Experience. "From the chancellor to the provost, to the deans, to all the Student Affairs workers, there is a culture that says this is something we need to do. This is something that is important to our students."
Recently, first lady Michelle Obama issued a letter calling for better support systems for gifted students who might not have the financial means or built-in support networks to help them succeed in college. She used the example of young man named Troy, who was from New Orleans and survived Hurricane Katrina. Troy didn't originally like school but blossomed during his high school years and now studies at Bard College. The first lady noted many colleges are taking steps to make sure these students graduate, but more need to join the efforts. She called for programs similar to many already in place at UM.
"These kinds of programs aren't just good for these young people," Obama wrote. "They're good for all of us. Because after everything these kids will have overcome to get to college – and get through college – they'll have all the skills they need to thrive in our businesses, and law firms, and labs. And that's not just good for them and their families, it's good for their communities and our country."
Ellis and Knight point to the Ole Miss Opportunity scholarship program, in which a coordinator will be hired to work with students from freshman year through graduation, and the StudentsFIRST program, which is tailored for first-generation college students, as examples of initiatives the first lady is calling for that already exist here.
At UM, the Center of Student Success is just one of several departments with the goal of helping more first-year students succeed.
The FASTrack program, housed at Ventress Hall, is a learning community for first-year students that divides them into "cohorts" of 20 students or less, in which they take three classes together during the fall semester and three more during the spring. This helps build a sense of community and support from peers. Those FASTrack students typically get to know one other well and also study and socialize with one other.
The program has grown from 25 students in 2007, which was its first year, to 330 students in this academic year, said Stephen Monroe, assistant dean of the College of Liberal Arts. Monroe heads up the FASTrack program.
"All students need a sense of community and support during the first year of college," Monroe said. "FASTrack provides this foundation to students from a wide variety of backgrounds. Our students are responding with hard work and solid academic achievement."
Each year, UM also awards 75 Luckyday scholarships, which range from $2,000 to $5,000 annually. In conjunction with that, there's also the Luckyday Success Program, which assists students during their transition from high school to college. Luckyday is built on the idea that a strong foundation during the first year of college is the key to being successful at a university.
Scholars meet individually with the Luckyday staff every two weeks to talk about any academic issues or social problems they may be experiencing, said Senora Miller Logan, assistant director of Luckyday programs. This has helped retention efforts.
"In a relationship where (students have) built trust with us, they can talk freely about these issues and therefore those things won't become an obstacle in their academic performance, and they can stay in college," Miller Logan said. "A lot of the situations we discuss with them can be fixed easily, but to young people, those issues feel like the biggest thing in the world. Really, what they need is just someone they trust and can talk to to work those thought processes out."