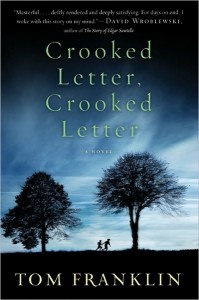 "Crooked Letter, Crooked Letter" by Tom Franklin
The University of Mississippi is inviting its faculty to attend roundtable discussions on the new selection for the 2012 UM Common Reading Experience, "Crooked Letter, Crooked Letter."
Hosted by the Center for Writing and Rhetoric, the discussions are scheduled for May 1 and May 2 in the Union Ballroom from noon to 2 p.m. They will serve as a forum to discuss first reactions to the book as readers and teachers. Lunch is included.
"Any faculty interested in incorporating this year's Common Reading Experience textbook into their curriculum should make plans to attend," said Glenn Schove, administrative coordinator for the Center for Writing and Rhetoric.
"Crooked Letter, Crooked Letter" was written by Tom Franklin, Edgar Award-winning author and UM faculty member. A resonant drama set in 1970s Mississippi, "Crooked Letter, Crooked Letter" tells the story of Larry Ott and Silas "32″ Jones. Larry is the child of lower-middle-class white parents, while Silas is the son of a poor, black single mother. The two share a special bond despite their different worlds. When Larry is last seen with a girl who disappears, he is blamed and the friendship between the two boys is broken. Twenty years later, another girl disappears and Larry is blamed again. The two men are then forced to confront the past they've ignored for decades.
Late arrivals and early departures are allowed. Reservations are required and can be made by emailing cwr@olemiss.edu or by calling the Center for Writing and Rhetoric at 915-2121. For assistance related to a disability, please contact Glenn Schove at gschove@olemiss.edu