Three $100 prizes to be awarded to undergraduate students with the best paper or poster
MARCH 23, 2016 | BY MALLORY L. MCCLURG
The University of Mississippi Department of English is offering three $100 prizes to undergraduate students who submit the best environmentally themed papers or posters in its inaugural Earth Day paper and poster contest.
All submissions must be submitted to Erin Drew, assistant professor of English, at the English department office, C-128 Bondurant Hall, or emailed to her at eedrew@olemiss.edu by April 1.
"As the environmental studies minor continues to grow and develop, we wanted a way to celebrate some of the good work that students are doing in environmentally focused classes and subjects," said Ann Fisher-Wirth, professor of English and director of the environmental studies minor.
Submissions must fall within one of the following categories:
Academic Paper
Scientific Poster
Creative Writing, Poetry or Visual Arts
Academic papers must be a minimum of five pages (double-spaced) and should contribute to the scholarly discussion of the history, politics, creative representation or any other aspect of the environment or an environmental crisis. Scientific posters must include an abstract referring to the topic of interest. Creative writing entries should be a minimum of five pages in length, while visual arts entries may be a single work of art or a series of up to five pieces.
"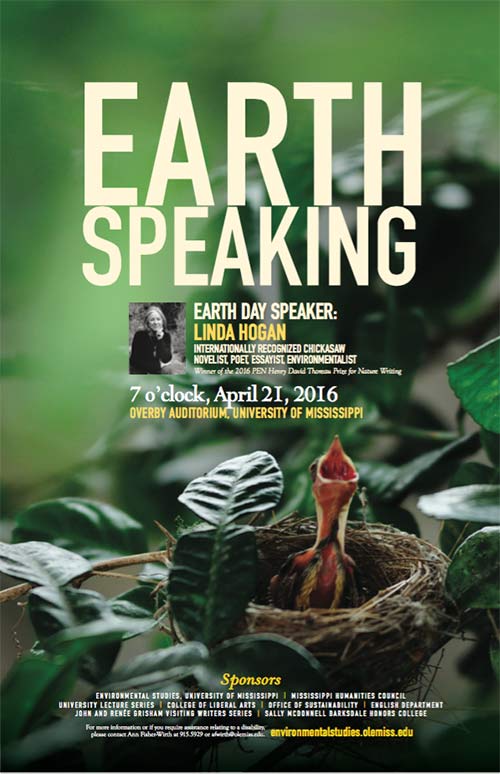 There is a judge for each contest – a faculty person for that area – and that person will arrange for a small committee to help decide (on a winner)," Fisher-Wirth said. "Since the contest is brand-new and was just announced, we haven't received any entries yet. I imagine we will receive a good number once the word gets out."
All entries will be judged on their originality, organization, clarity, quality of ideas and scholarly/creative engagement.
Prizes will be announced at 7 p.m. April 21 at the Earth Day keynote lecture in UM's Overby Center Auditorium, and winners will receive an email regarding the acquisition of their $100 prize.
Award-winning Chickasaw novelist, playwright, essayist, poet and environmental activist Linda Hogan will deliver this year's Earth Day keynote lecture. Her discussion of Speaking Earth will focus on the ways in which humans can learn to speak in harmony with the Earth and the ways in which the planet speaks to mankind.
"There is a way that nature speaks, that land speaks," Hogan said. "Most of the time we are simply not patient enough, quiet enough to pay attention to the story."