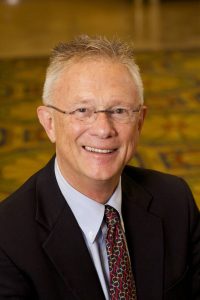 Dr. Jesse Lamar White, Jr., a native of Jackson, Mississippi, was the only child of Marguerite and Jesse L. White. He entered the University of Mississippi as a freshman in 1962, a year of turmoil. He graduated summa cum laude in 1966 with a BA in history and political science. He was a member of Phi Kappa Phi and Omicron Delta Kappa honorary organizations, as well as the band and orchestra.  He earned two Taylor Medals and a Marshall Scholarship—the first to be awarded in Mississippi—which sent him to earn a master's in international relations at the University of Sussex, followed by a PhD from Massachusetts Institute of Technology.
A recognized expert on Southern politics and the region's economic development, Dr. White has served in numerous governmental positions at both the federal and state levels, as well as in academic life. At the federal level, he was the chief policy planner for higher education in the US Department of Education and a special assistant to US Senator John Stennis. At the state level, he served as Secretary of the Mississippi State Senate. Jesse has been a member and officer of several professional and church organizations.
From 1982 to 1990, Dr. White was executive director of the Southern Growth Policies Board, an economic think tank. From 1993 to 2002, he served as federal cochair of the Appalachian Regional Commission, which received record-level funding and its first congressional reauthorization since 1982. He joined the University of North Carolina as an adjunct professor and retired as Director of the Office of Economic and Business Development in December of 2010.  Dr. White is a Fellow of the National Academy of Public Administration, recipient of the Phillips Medal for Public Service from Ohio University, and a member of the Cosmos Club of Washington, DC.
Though his career has taken him far, Jesse has kept a connection to UM. At UM, Dr. White has served on the McLean Institute for Community Development's advisory board. He established the Jesse Lamar and Marguerite East White Memorial Endowment in memory of his parents at the JD Williams Library, and created the Dr. Jesse L. White, Jr. Civic Engagement Endowment to support the Winter Institute for Racial Reconciliation.
"I'm a proud Mississippian.  I just enjoy doing work when I see positive change in people lives."